by Sunny
follow me on Twitter @sunnylooksleaps
First things first…no season 7 spoilers ahead 🙂
Maybe you don't have HBO or enjoy 1,000+ page books and you've never heard of/seen Game of Thrones. You're not sure what the hype is about.  All of the Tweets and Instas of Game of Thrones watch parties and countdowns to Season 7 baffle you.  Well, whether you're new to the game or a diehard fan, I have a fun story to share about a Game of Thrones themed dinner Jimmy and I attended the night before the Season 7 premiere.
Game of Thrones has been a staple of our Sunday nights for years now.  We are very ritualistic in our viewing: put MJ to bed, order take out, glass of wine, pint of ice cream, and we are good for an hour of medieval fantasy in Westeros. Here is a pic of our typical GoT dinner: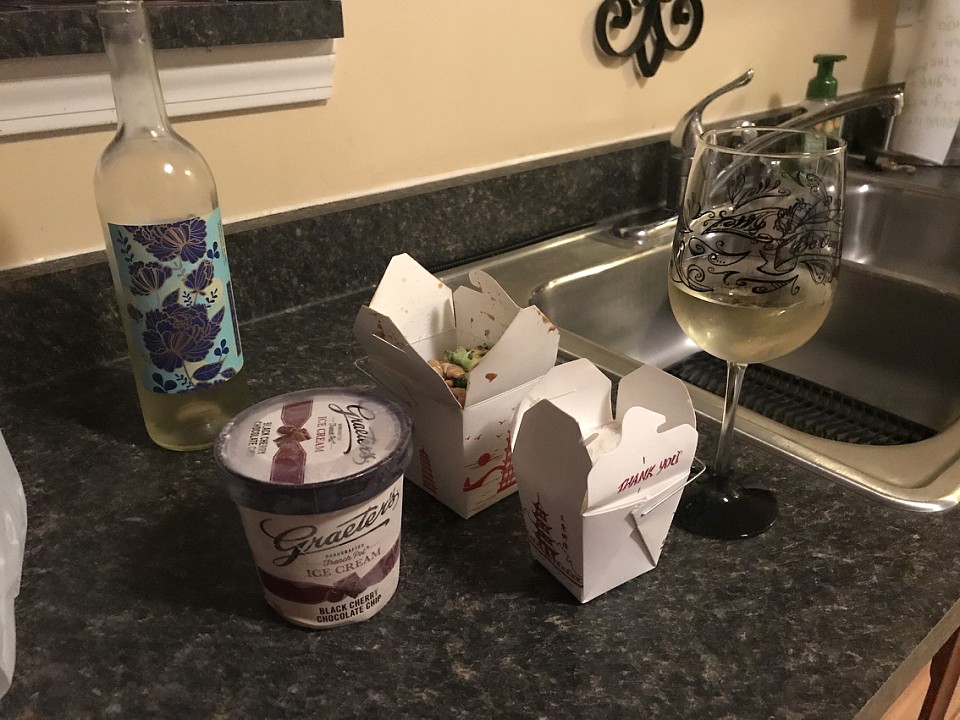 We've watched our favorite characters triumph,  agonized over the heartbreaking deaths of beloved characters, and analyzed the vengeful plotting of others.  We love to hate Cersei, and are jealous of Daenerys's dragons.  I adore the Stark sisters, and Jimmy can't resist one of Tyrion's witty, quotable lines.  So naturally, we became more and more excited as the long awaited Season 7 was finally near!  Jimmy found out about the "Regal Dinner" hosted by Napa River Grill, and we immediately booked a reservation.  Winter was coming a night early!
I didn't want to go full on cosplay, but I did want to bring some elements from the show into my look for the evening.  The hair was a no-brainer.  Nearly every woman in the seven kingdoms wears some type of braided style.  This was mine: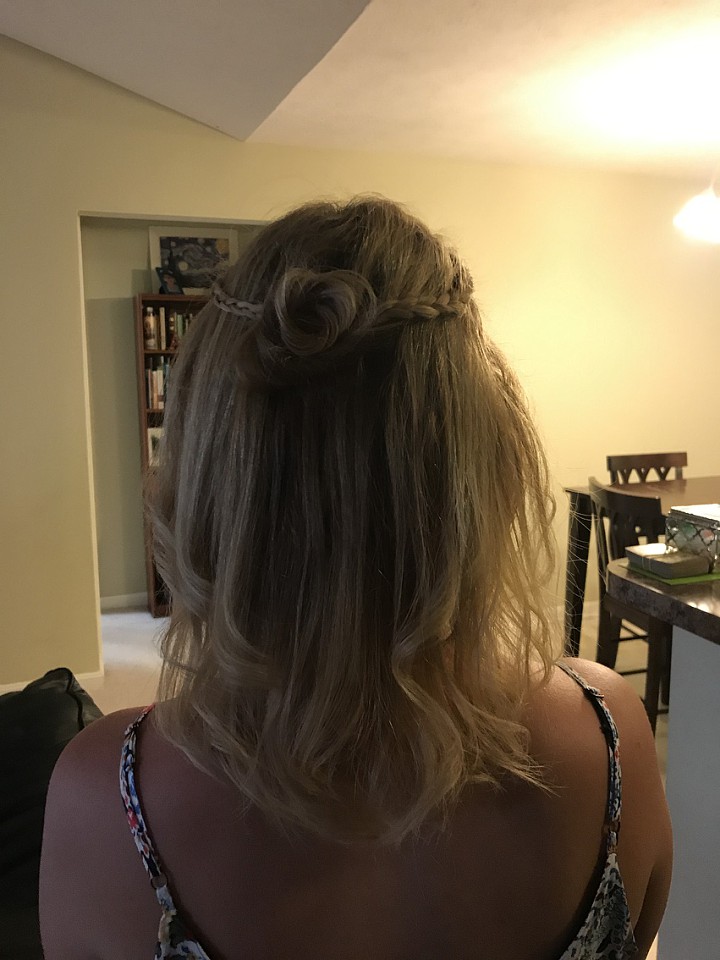 I wore a maxi dress with a print of yellows, reds, and blues.  It reminded me of the palace at Dorne. But I think the crowning glory of my outfit was my Needle inspired earrings. I feel like these are earrings that even Arya would've appreciated.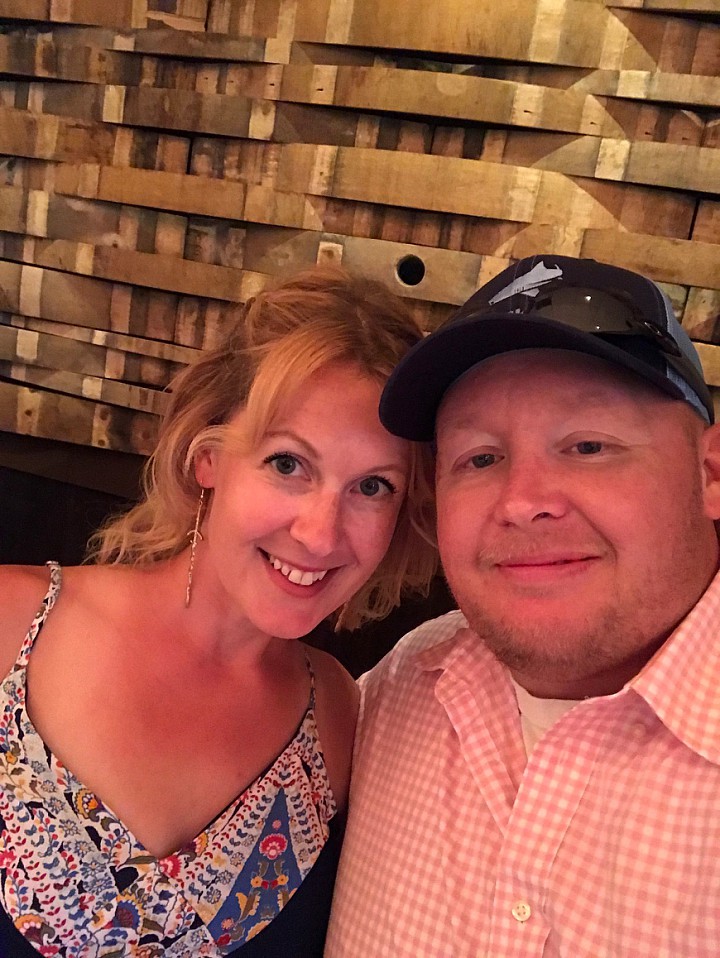 The dinner began with everyone slowly making their way to the private room for the evening.  The chandeliers were large, round, and made to look like lanterns just like in one of the castles on the show.  Music from the series was playing in the background. On the large square table set for 25 was the menu: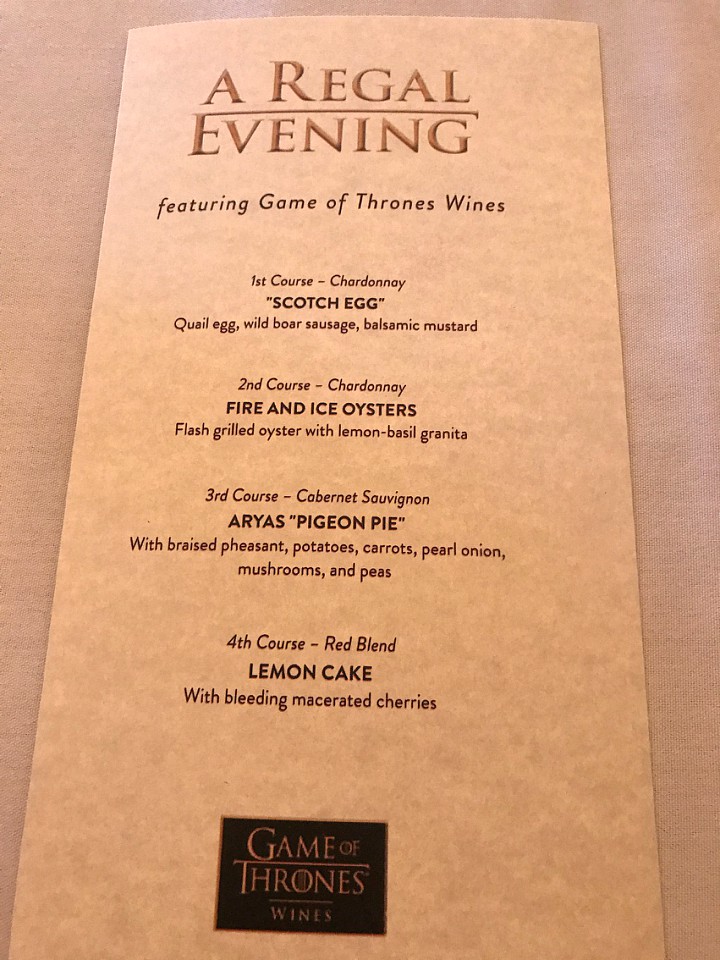 The Game of Thrones wines are made by California Winemaker Bob Cabral. Jimmy is always impressed by the way the characters "drink their wine like it's Hawaiian Punch." We were both eager to try the wines that were inspired by our favorite series.  Each course and corresponding glass of wine were described in detail by our host for the evening.  He was extremely knowledgeable about the wines and also gave us his thoughts on other spirits he would enjoy with the meal.  However, his wine smarts greatly outweighed his Game of Thrones smarts as he had NEVER SEEN THE SHOW.  He had a list of trivia questions for us between courses but would usually trip up over the names (How do you pronounce Daenarys and Viserys Targaryan?!), or a chorus of diners would call out the answer before he was done asking the question (The Starks use which sym…DIREWOLF!) The trivia was fun and sparked a lot of conversation between our fellow diners.  We sat next to a mom and daughter who shared with us their favorite scenes and characters (Mom had a serious thing for Jon Snow), and we debated the show's most disturbing scenes (Could anyone sleep after the eyeball skull crushing from The Mountain?!).
The food was fantastic to boot.  Jimmy and I love Napa River Grill and have spent many anniversary dinners there.  It felt kind of strange to not get the tried and true menu, but we were not disappointed in the least.  Aside from the oysters (I had a bad experience with them in Maine and didn't eat them), everything was amazing.  The oysters were plated over the granita with another component that made the dry ice fog effect pour out of the bowls.  It was also bubbling which made a super cool almost eerie effect.  And the edible flowers made it look polished and brought a nice pop of color. So although I didn't enjoy eating them, I really enjoyed looking at them.
The main course was basically a summer-style pot pie that was wrapped in phyllo dough as opposed to a heavy crust.  Delicious.  And named after Arya Stark.  And didn't contain any murdered traitors.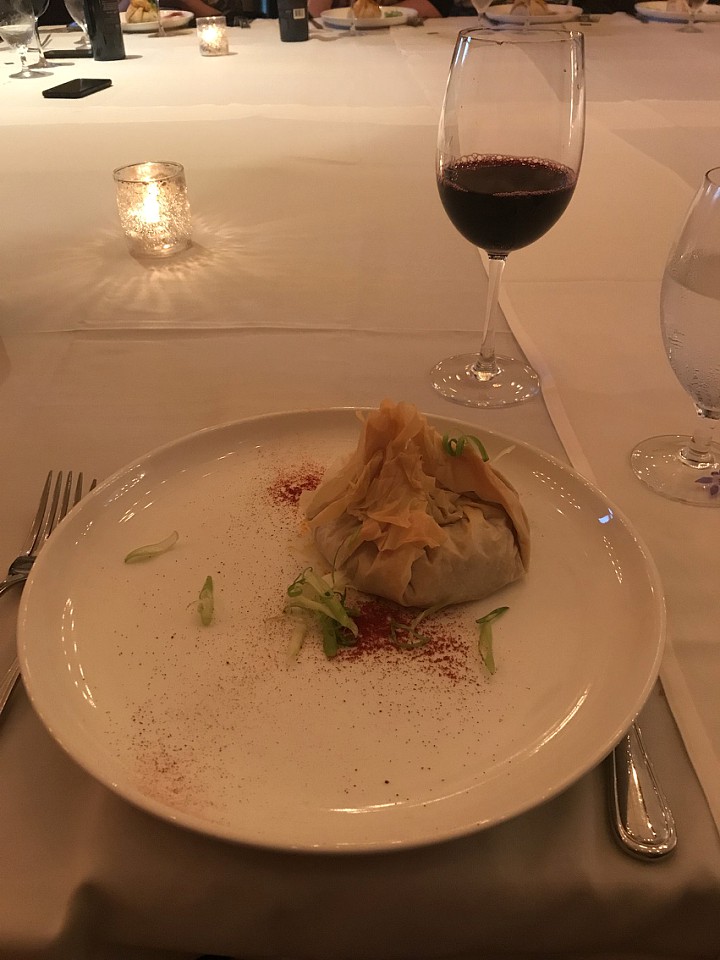 And you can't have Arya's dish without having her sister Sansa's favorite treat.  Although we don't hear much about her lemon cake obsession these days (she's got A LOT more to do than choose sweets)  the cake was a perfect ending to the meal.
By the end of the meal, everyone was happily satisfied with the enjoyable evening.  Jimmy and I wondered how the staff at Napa River Grill knew how to pull off such an incredible meal.  I think our host for the evening said it best in the one quote that he had heard from Game of Thrones fans: "That's what I do.  I drink, and I know things."