by Wendy
Jack and I kicked off January 2017 with full week of travel, including a road trip to a state I'd never visited before: Vermont. We spent 3 days in the beautiful snowy town of Stowe.
Last year I wrote about my determination to participate in more outdoor activities, and it is sometimes surprising how much I am enjoying winter weather. This short destination report may help anyone considering a vacation in Stowe, but especially goes out to my fellow guys and gals who might dread the cold or are apprehensive about skiing. It's possible to shift your approach and rekindle lost love for snow days.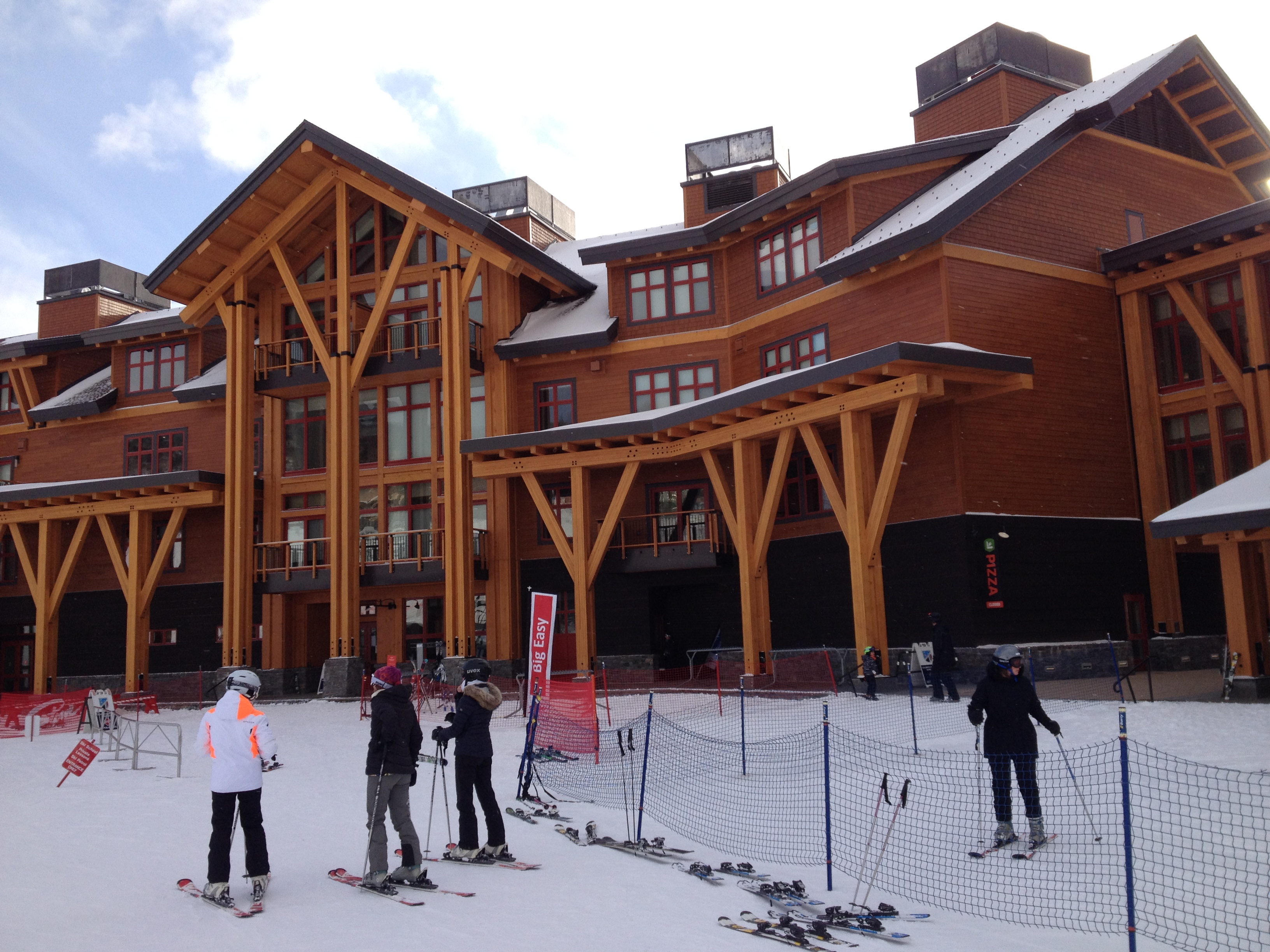 The timing – If you can swing a bit more time off, a break after the holidays is fantastic. First, there are often hotel deals. Second, I'm usually so desperate for another respite from routine and looming January blues that I am easily talked into Jack's getaway preferences. A long drive up to New England to go skiing? For sure! Stowe's temperatures will be in the high teens/low 20s? Count me in!
The hotel – We stayed at Green Mountain Inn in Stowe and adored it. It was a little farther from the slopes, but within easy walking distance to several bars and restaurants. I was smitten with the small town and delighted by the elegant, spacious room featuring a fireplace and jacuzzi. The hotel was still festive with Christmas trees, lights and garland, and offered plenty of common area space where guests could relax apres-ski and play cards. There was a restaurant/bar on-site, spa facilities nearby, and a heated pool under the starry sky that we bravely walked to and from one freezing evening, clad in bathing suits, robe and snow boots.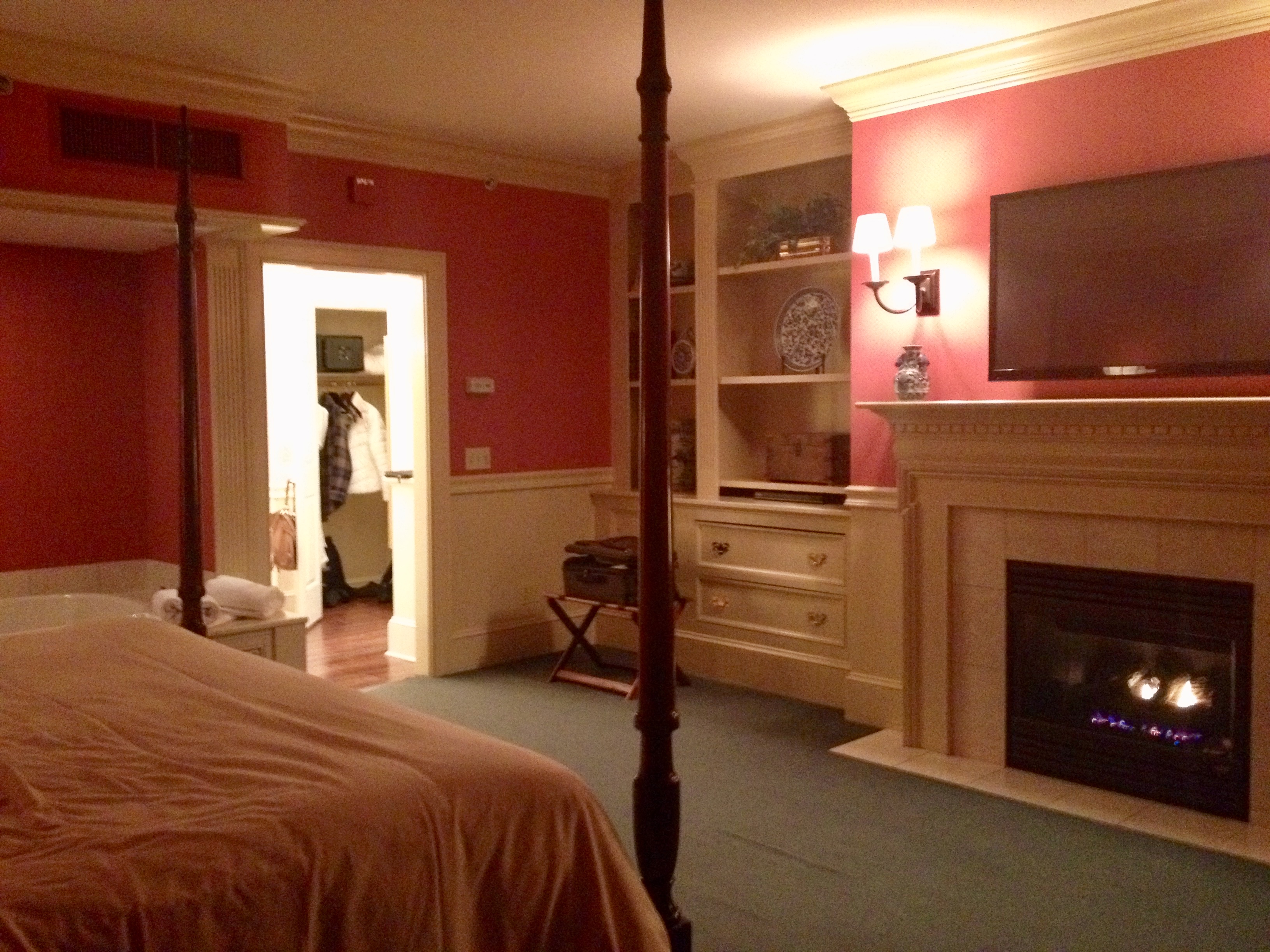 I would choose Green Mountain Inn again, but noticed many appealing accommodation options in the area. There were large houses that appeared to be for rent on Spruce Peak Mountain – I could have skied into their backyard. As a longtime fan of The Sound of Music, I had to take a peek at the famous Von Trapp Family Lodge. The stunning property nestled in the mountains has restaurants, a bakery, a brewery…and high on the hill is a lonely goatherd yodeling (kidding).
The fashion – My packing strategy was similar to when we went to Park City, Utah. That trip was unexpectedly warm, but I knew I had gear I could rely on in a frostier setting. There were two scenarios:
1. Skiing in the obscene cold – my layering game worked well, so I want to share it with you. I wore thermal leggings, thick "Hot Chillys" socks, and ski pants (these had a warm lining as well; I'm thinking of buying some that are less bulky but man, they are warm). I also wore a thin t-shirt, thermal shirt, plaid flannel, and my jacket. The Patagonia hat and REI gloves Jack gave me for Christmas were much appreciated. I wore a second headband to cover my ears under the hat, and of course a ski helmet and goggles gives you extra protection. I was overall snug, not shivering. Looking back I might have added a scarf for neck/lower face, and glove liners (or maybe those hand warmer things) because after about three hours my fingers were feeling numb.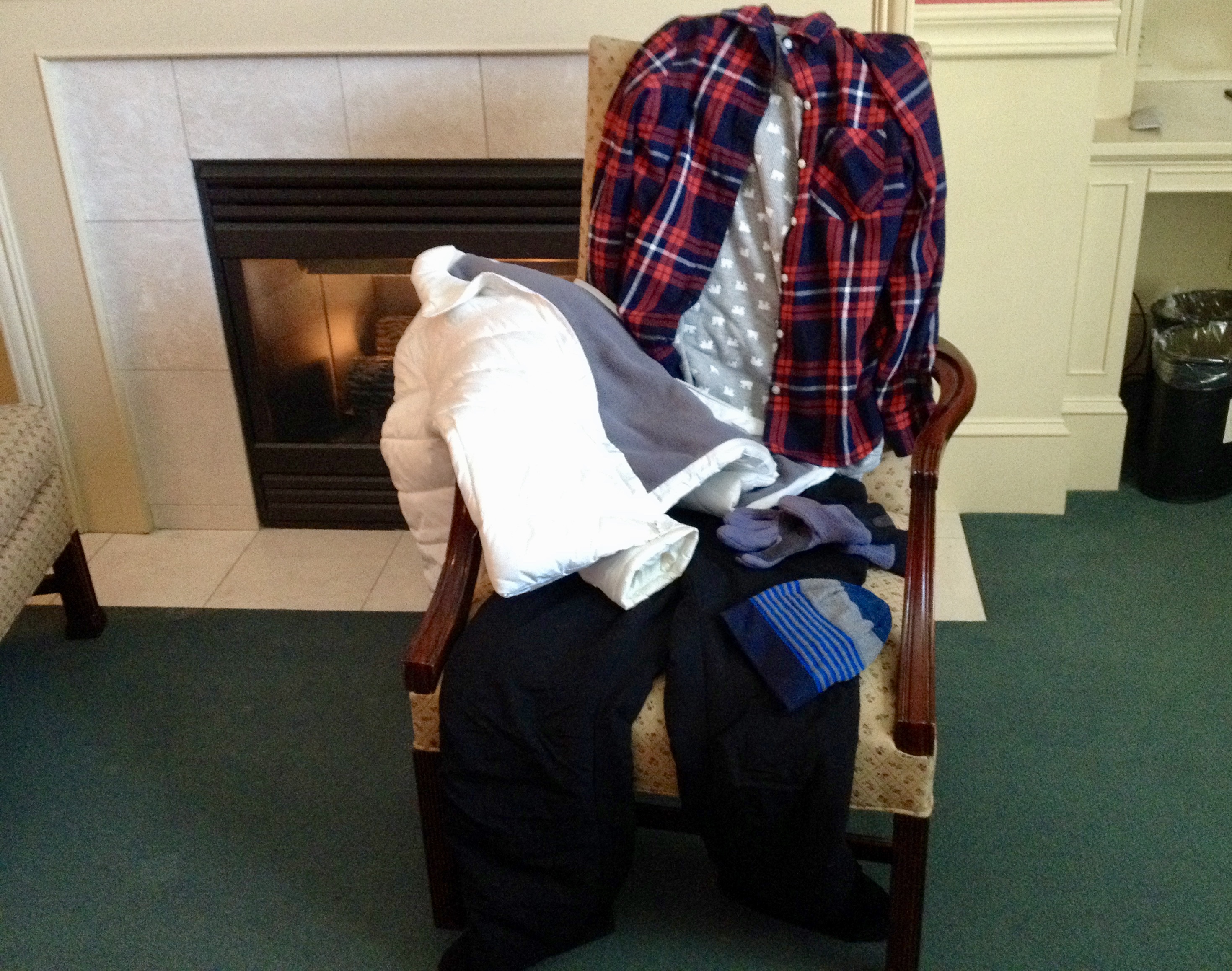 2. Going out for dinner and drinks – I basically went for the plaid flannel or long sleeve shirt with jeans and snow boots look. My new additions were a blanket scarf from Old Navy – awesomely warm and also ideal for cozy reading by the fire – and a new pair of silver dangly earrings from my sis Sunny. I got so many compliments on the jewelry from hip waitresses in Stowe.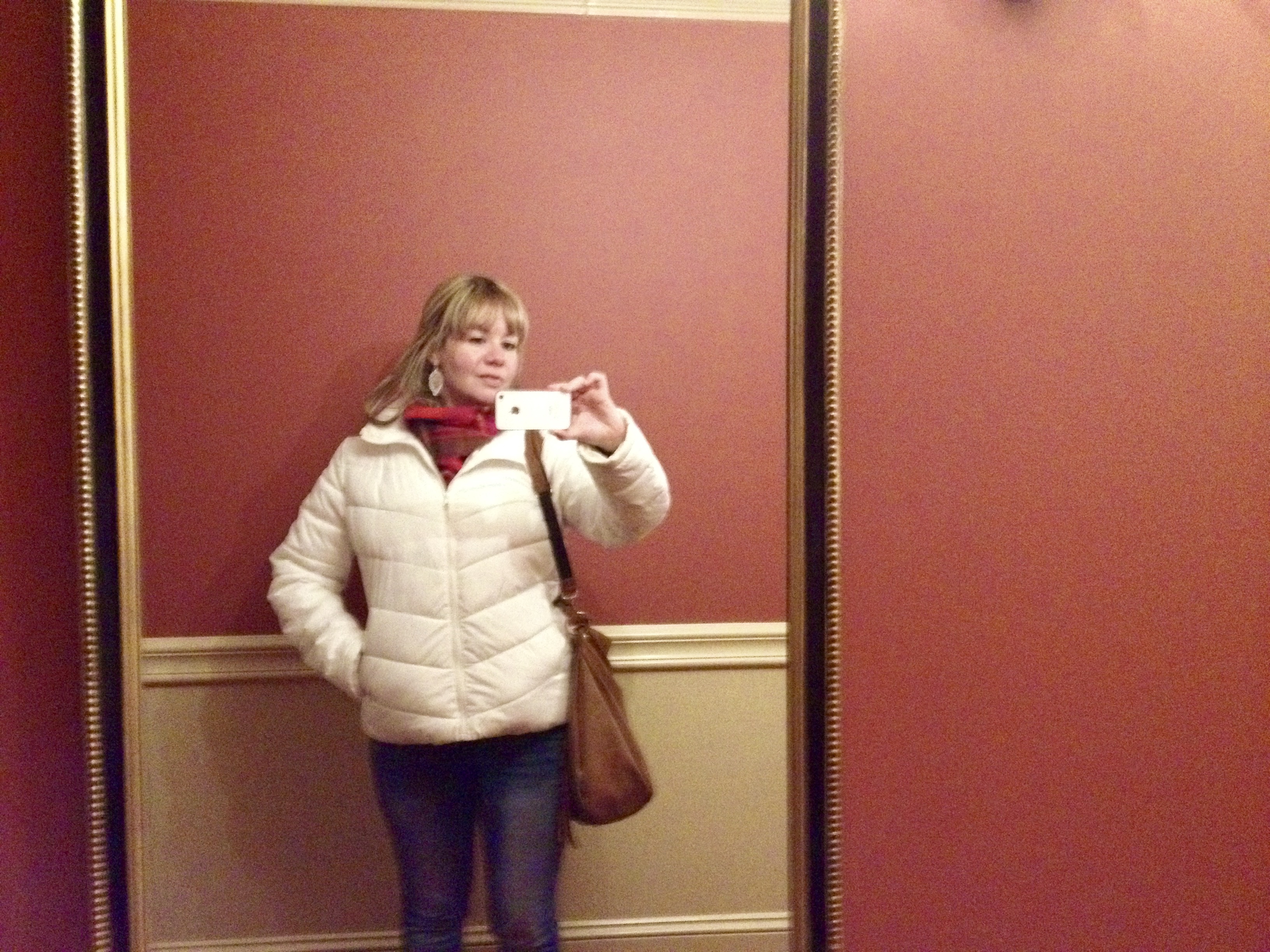 The skiing – Not going to lie, I still get nervous. And annoyed – why does skiing have the most complicated, obnoxious, expensive equipment? Why should it take 5 minutes to put on one shoe? But I was determined to do it, at least for a frigid afternoon. I started on the bunny hill, got bored with that in 10 minutes, and then spent the rest of the day on a lovely beginners run – skillfully navigating the chairlift if I do say so myself, linking my turns, only falling once, and feeling calm/in control enough to enjoy the gorgeous scenery.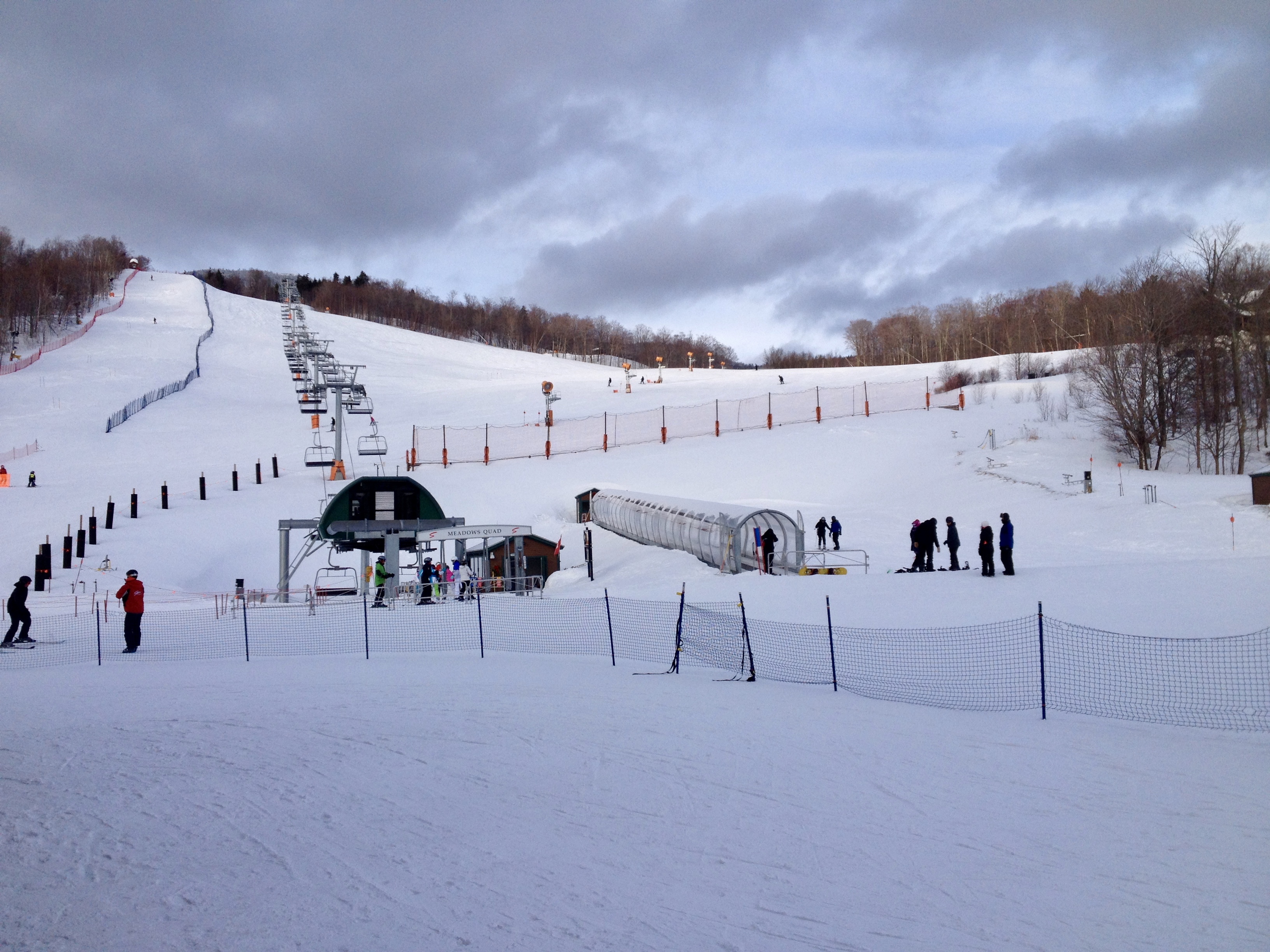 The neighborhood – This small town in the small state of Vermont is utterly pretty. People seemed friendly. I was enamored with the picture-perfect Main Street – it even has a general store! Note that businesses may not keep late hours or be open certain days – have your dinner plan in place before 10pm.
Our first stop upon arrival was Tap 25, a low-key bar with excellent craft beer, where everyone was glued to a junior hockey championship game on TV. During our stay we had dinner at the hotel restaurant Wisp and Harrison's nearby – and loved both wood-paneled spots with their warm atmosphere and comfort food options. On our last night in Stowe, we ordered amazing pizza from Piecasso's. We drank a couple of delicious cocktails at Plate and thought their dishes looked top-notch – look forward to visiting another time! By the way, how can you not like a town where Cabot cheese is featured heavily on local menus? Or a town near the birthplace of Ben & Jerry's ice cream for that matter – we didn't take a tour but saw that they are available.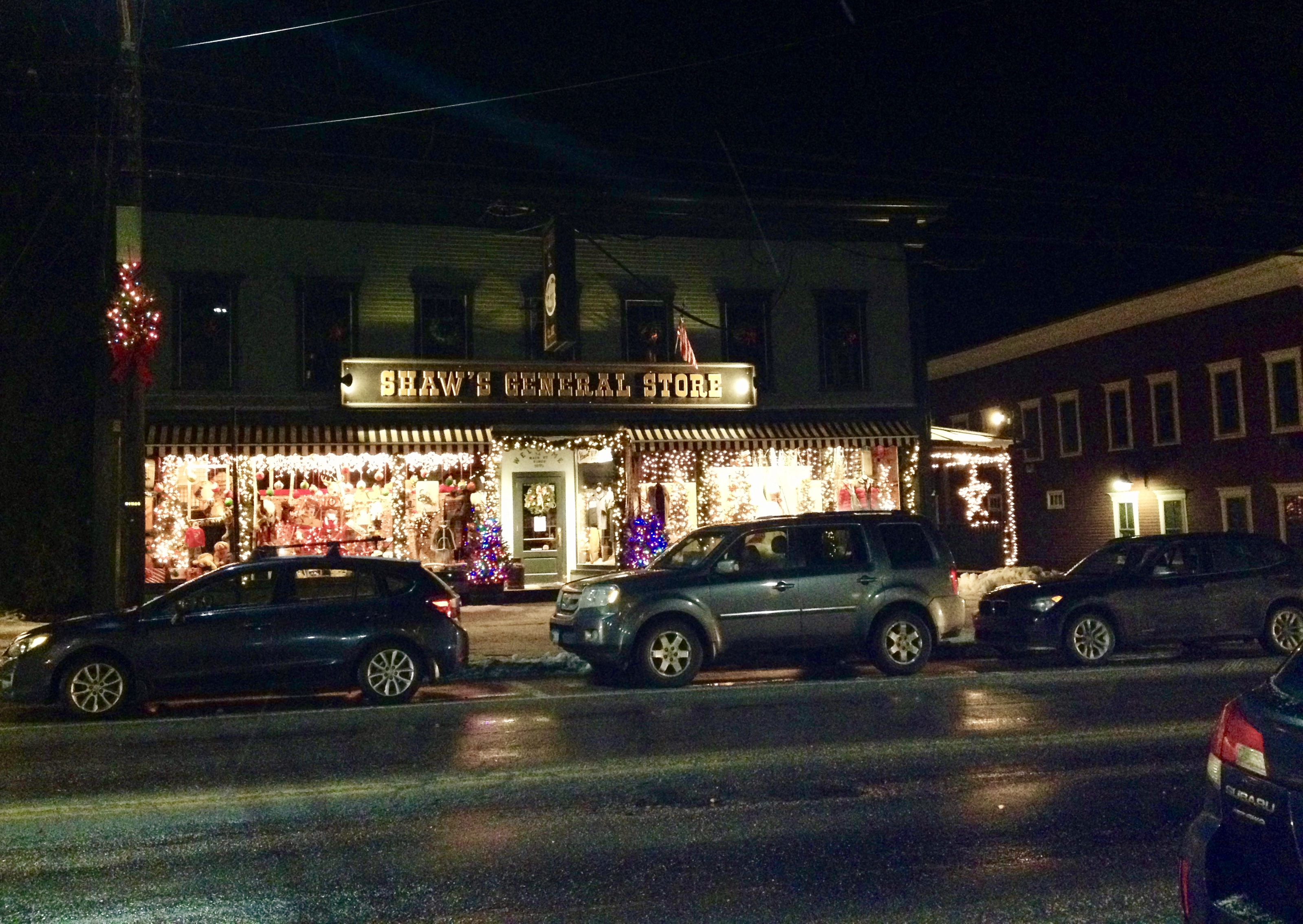 This winter, I'm doing my best to channel Queen Elsa (showing my Disney side!) and not let the cold bother me. It's got me dreaming of checking out Iceland or Scandinavia during the frozen season – wouldn't that be a *cool* adventure?