by Wendy
Philadelphia is one of Jack and my favorite American cities, especially for a weekend getaway. The first time we traveled together was to Philadelphia and we've been back many times since, including a fun day trip with my parents several years ago.
Some streets might remind you of New York City, others of Boston, or maybe even Chicago. Philadelphia is beautiful and gritty and worn in the way old cities are – you can sense what residents and tourists of centuries past were seeing as you walk the same streets. But like any great city, Philadelphia is unique. Read on to learn why I'm so fond of Philadelphia.
During an inaugural stay, you must devote time to historical Philadelphia. At the top of your must-see list should be Independence Hall, where the United States Constitution and Declaration of Independence were signed. This landmark is part of a National Park with many fine exhibits and notable buildings. The Liberty Bell is definitely worth a look.
There are a variety of museums to choose from, whether you are interested in more history, art, science or perhaps even the prison system. Consider a few examples: the Ben Franklin Museum, the Betsy Ross house, the Franklin Institute, the Philadelphia Museum of Art (with the "Rocky" steps), the Philadelphia History Museum, and yes, the Eastern State Penitentiary Museum. Once Jack and I were in Philadelphia around Halloween and went through a haunted house set up in this former prison – spooky!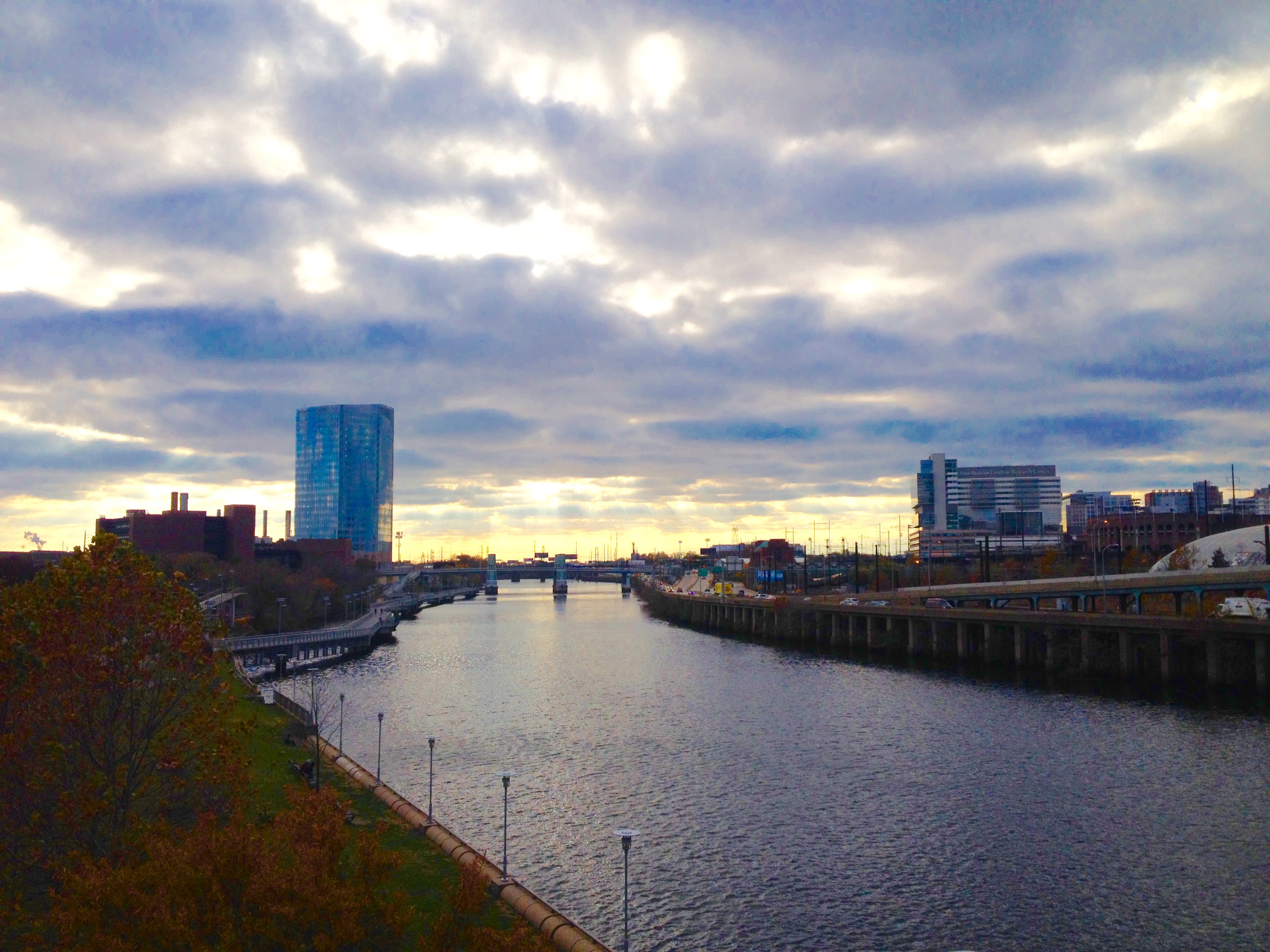 Philadelphia is a major port city. Stroll around Penn's Landing and tour a submarine or ship at the Independence Seaport Museum. The path near the Schuylkill River seemed a little desolate on a recent visit but we caught a pretty water view and saw the giant, colorful Phillies Mural nearby. Always use your streets smarts when navigating a big city.
During your stay, you'll likely admire many colonial style houses around Philadelphia. Rittenhouse Square is picturesque with its park surrounded by townhouses and elegant apartment buildings. I would recommend stopping by Elfreth's Alley – known as the oldest residential street in America!
As far as delicious food and drink, Philadelphia has you plenty covered. You might like South Street Market with its Italian shops and groceries, or Reading Terminal Market with its many stalls of gourmet treats. Take a break and have a beer at City Tavern, a charming reconstruction of one of John Adams' favorite spots. You'll have no problem finding trendy restaurants and bars – Jack and I usually wander around until we notice someplace interesting. However, we always make a pilgrimage to one particular delicatessen.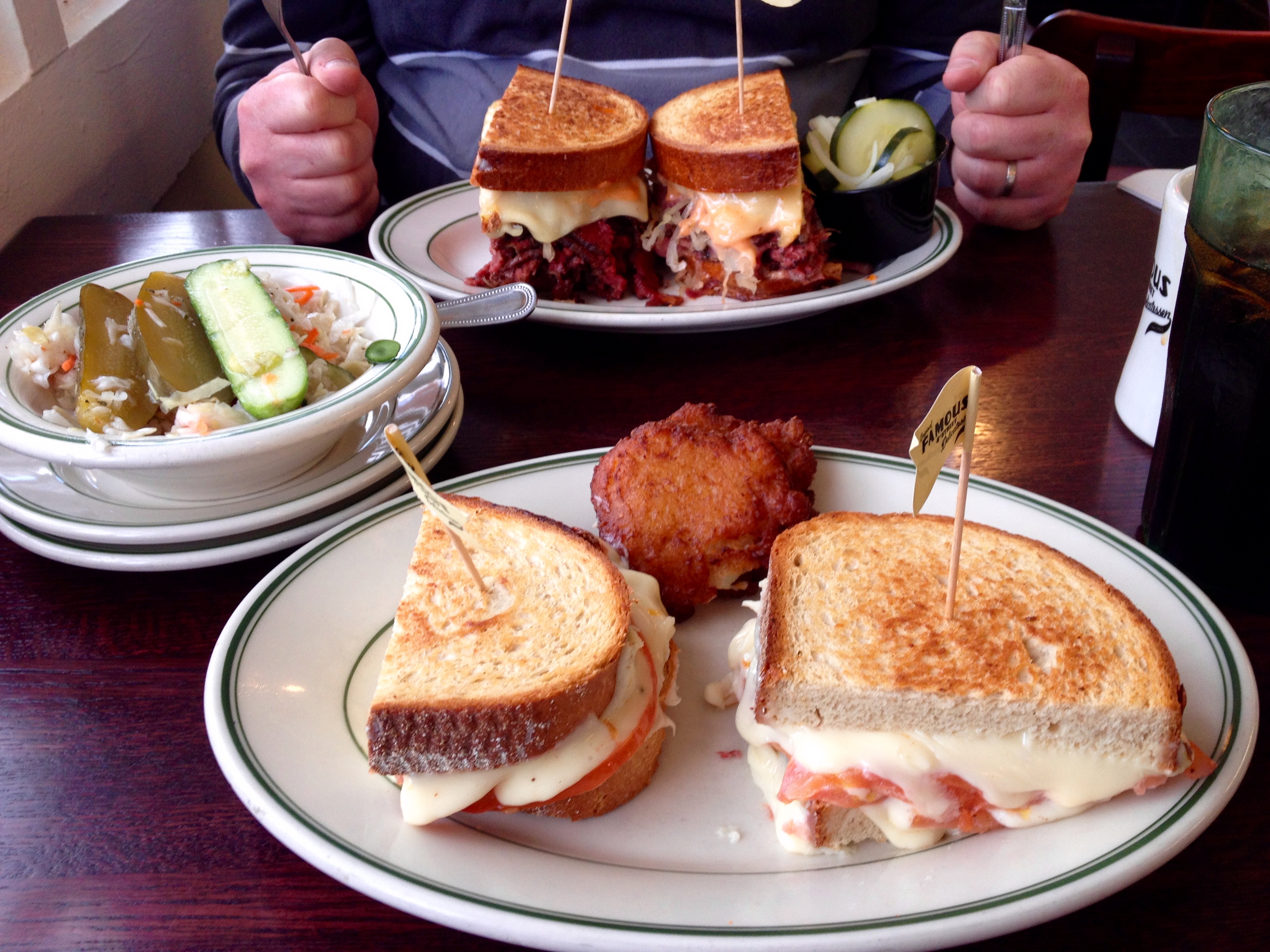 Famous 4th Street Deli is our most beloved restaurant in Philadelphia. Dear NYC, please don't be mad at me, but Famous 4th Street is better than Katz. This historic corner restaurant is busy, but the line moves fast. The food is so delicious and we rarely stray from our favorites. We love the complimentary bowl of pickles followed by gigantic sandwiches (pastrami reuben for Jack, tomato grilled cheese for me), potato latkes, and finally, the complimentary warm chocolate chip cookies delivered with the check. Yes, Philadelphia cheesesteak shops are awesome, but we think Famous 4th Street Deli ekes out a win.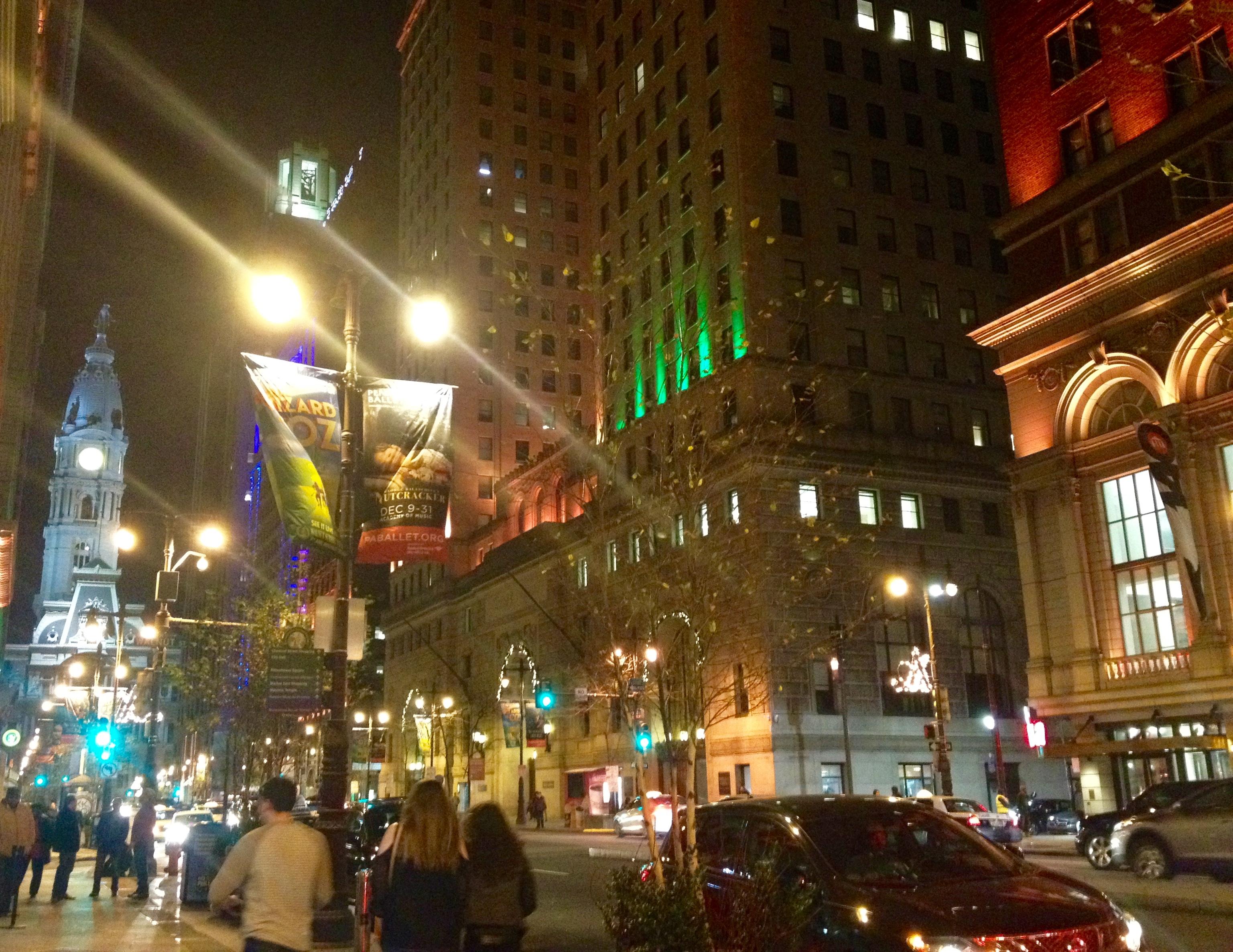 Besides the must-see sites and popular activities, Jack and I are fans of just hanging out in Philadelphia. A few weeks ago we booked an overnight in the Hyatt at The Bellevue, a gorgeous historic downtown hotel. We explored the neighborhood in the cool evening air. Many people were out and about. We saw women in ballgowns going to fancy receptions, fellow tourists gazing at the iconic city hall tower, families shopping at the Christmas market. At one point it sounded like a marching band or protest was making its way down the street – it turned out to be a team of three musicians walking around playing drums. We had a great night stopping in a few bars for snacks and drinks, taking in the city scene and enjoying our latest visit to Philadelphia.