by Wendy
Part One covered one of our favorite restaurants in San Sebastian / Donostia. This is about the other favorite.
We had a great time in Old Town the previous evening, but decide to stay in our hotel's neighborhood on Friday night. Both of us were smitten with the beautifully landscaped residential streets, lively but quieter, with its own appealing restaurant scene and busy bars.
While it's pouring rain, we start with a few drinks and snacks at the NH Aranzazu's chic hotel lounge, Kukuarri. After Jack wins our gin rummy game, it's only misting, so we head outside.
Like last night, we don't have reservations and expect (hope) to eventually find the right place. We noticed a restaurant serving gorgeous lobsters nearby – no space. We cover several blocks to check a couple other spots but they're also crowded. Here we go again, we think.
We walk to Vinoteca Bernardina, on the street across from the hotel. The cozy bistro looks full but we approach the bar and inquire. We inquire in Spanish, and are answered in Spanish, so we aren't 100% sure of the response but understand there are no tables.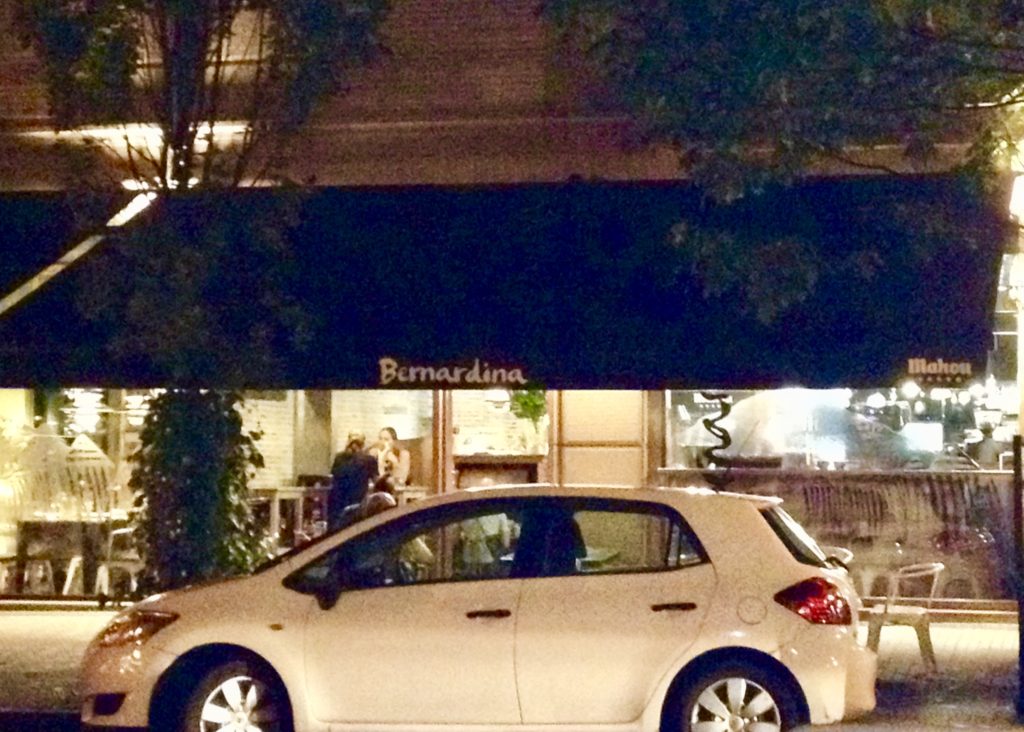 But instead of leaving, we try a different tactic and order glasses of Verdejo and linger to show that we're serious. Maybe they meant there are no tables right now. Maybe there will be tables later. It's a gamble but we settle in and strike up a conversation with a friendly Japanese technology salesman, who initially thinks we are French. He tells us he's been to New York City 100 times. Suddenly a waitress appears and tells us our table is ready.
The waitress takes our drink order and informs us a certain dinner special is no longer available. We shrug and tell her we're just happy to have a table. She laughs.
We select three courses plus a side of fresh bread topped with olive oil and tomato puree. The menu reflects the creative and skilled techniques that make San Sebastian a foodie destination. We order an appetizer to split, which they serve already divided into two colorfully arranged portions. It looks like something you'd see the favored contestant prepare on the television show Master Chef.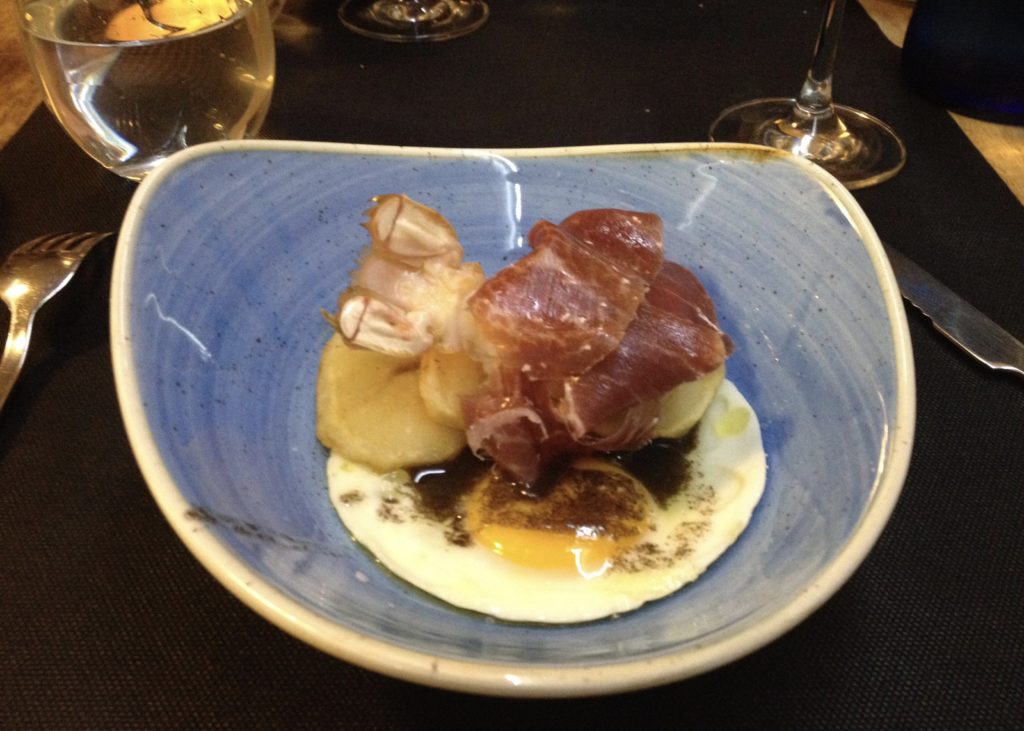 We order seafood dishes that are delicious, complete with the artful swirls on the plate. I think mine was squid and Jack had a type of monkfish. When you're four drinks in, reading a menu in another language and enjoying the experience and atmosphere and company – you forget to take notes. I did remember to snap a photo. I recall liking Jack's choice better, but the squid was interesting. Part of travel, right? Some nights you eat steak, other nights squid.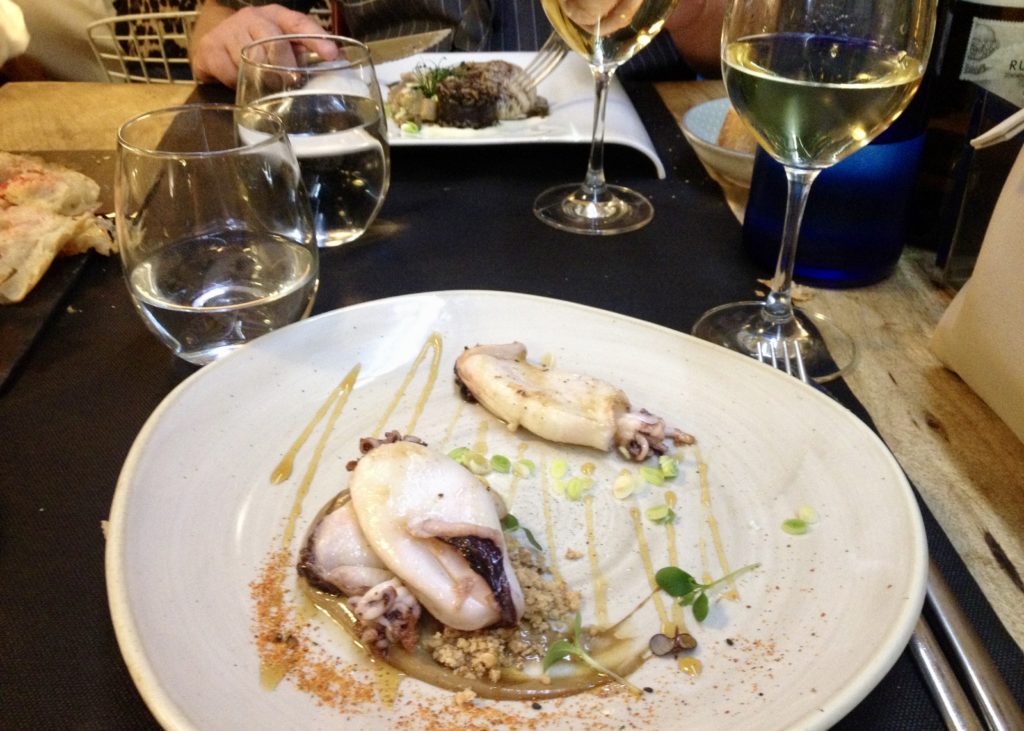 Finally we indulge in cheesecake, served to look like a potted plant. The waitress announces that we are the first to try this new presentation, which we think is cool. Ok, chef, we trust you! It's really, really good. Creamy cheesecake with fruit and graham crumble…and a leaf or two. We pair our dessert in disguise with a glass of Calvados. We don't have that, the waitress first tells Jack when he requests the liquor. Another waitress stops by and asks us to repeat the order. Oh, Calvados? Sure.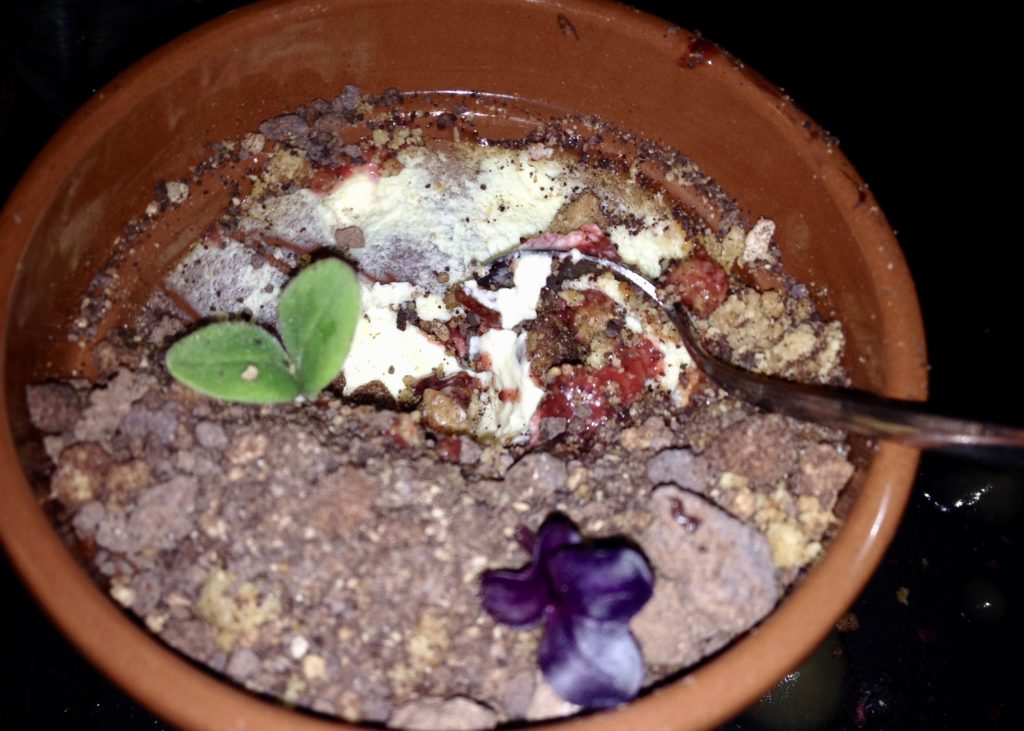 We assume our pronunciation must still be terrible. That doesn't stop us from telling all the staff "Gracias – todos es perfecto" as we leave. It might mean everything is perfect or everyone is perfect. Either way, whatever.
We go back for a final drink at hotel bar and wind down another fun evening out when having no specific plan pays off.