by Wendy
Spending an evening in Madrid? Lucky you. Jack and I would prefer at least one date night here every week. Here are some of our recent finds.
Sidreria El Escarpin– We enjoyed a drink here during a previous stay in Madrid and made the right call to order dinner this time. This restaurant features cuisine from the Asturias region in the north of Spain, including the refreshing fizzy cider (sidra). We discovered the appetizer of our dreams: fries topped with chorizo and fried eggs. This beauty pictured above, along with hearty entrees (fish for me, oxtail for Jack) and two bottles of sidra were perfect and also reasonably priced at around $70.
La Carmencita– A few blocks from Gran Via, the neighborhood of Chueca is lively with restaurants. We stopped in La Carmencita shortly before 10pm and from our vantage point at one of the few available tables in a cozy dining room, this felt like a popular local place. Acquaintances greeted each other and pulled up a chair, friends laughed and chatted at a big round table, a stylish couple abandoned their booth between courses to step out to smoke. Jack and I split queso croquettes and razor clams. I ordered fried fish and fries, while Jack chose a meatball dish, both simple but delicious and served on pretty blue and white porcelain plates. For dessert, we split a piece of cake, not because we were still hungry but because we didn't want to leave.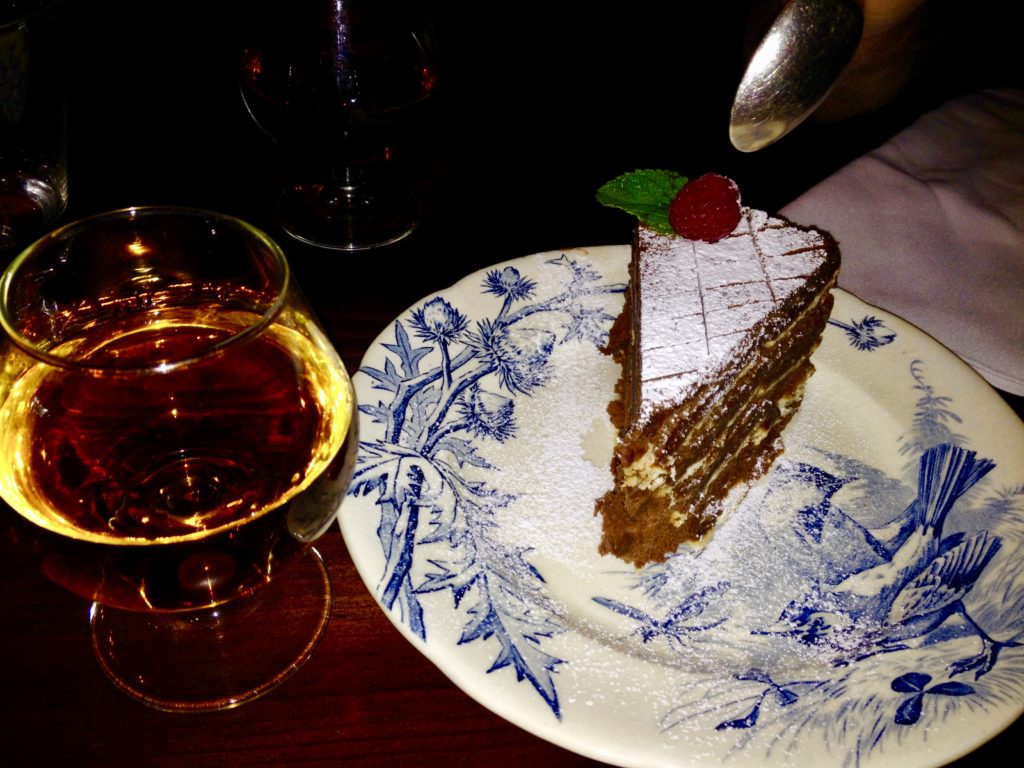 Restaurante Bocaito – Also in Chueca, Bocaito is highly recommended online, and it's hard to miss the wall of photos of famous people who have visited. Maybe it was a Monday night, or our table tucked into a corner, but it was so quiet. The food was exceptional but we preferred La Carmencita's atmosphere. Complimentary shots of gazpacho kicked things off, and we split a generous serving of queso and jamon, a salad of delicately stacked tuna, tomatoes, onion and avocado, and finally a flavorful squid ink rice with seafood.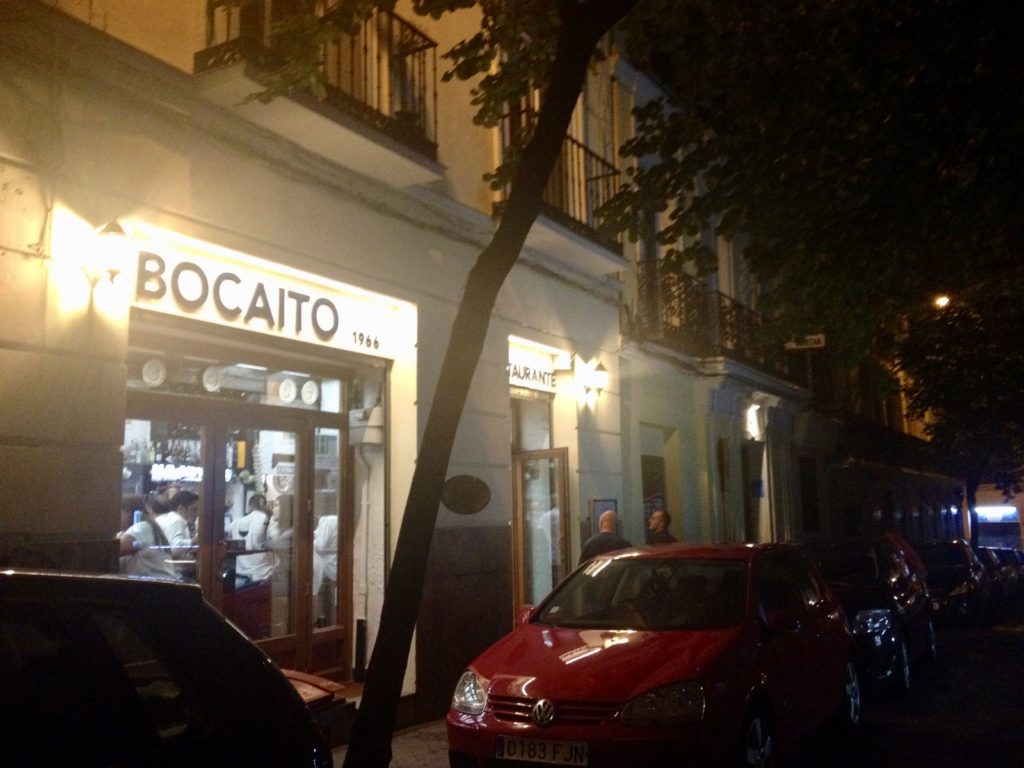 Taberna del Alabardero – We only stopped here for drinks and a snack, but loved the bright compact bar at the front of the restaurant. We sipped one of our favorite Verdejo wines from Bodegas Naia and were served salmon pate on bread and a creamy potato salad with those crunchy mini-baguette crackers. Some complimentary tapas are better than others. For whatever fortunate reason, Taberna del Alabardero has a location in DC – apparently the only one outside of Spain. Jack has a business relationship there, but we would visit even if he didn't.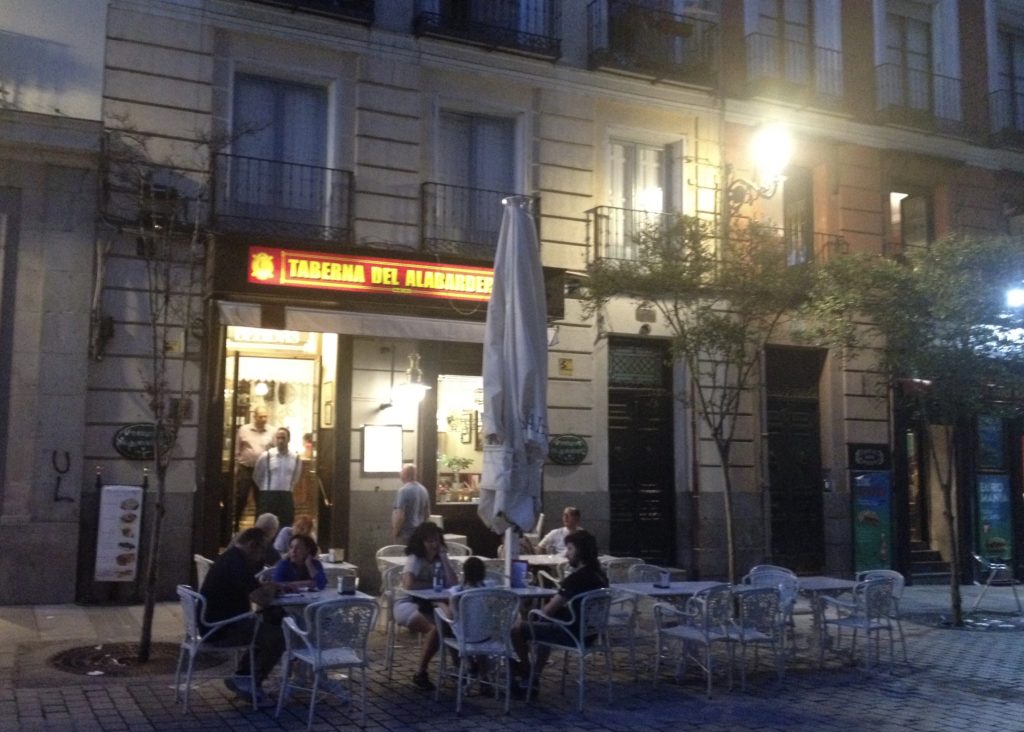 Hotel Santo Domingo Rooftop Bar – I have a hard time passing up a rooftop bar. Although it was the first night back in Madrid and jet lag loopyness was surfacing after dinner and many drinks, I talked Jack into a bourbon at this spot. In the evening this hotel's pool area becomes a bar called "Sunset Lookers" and while we were there closer to sunrise, it was very fun. Kind of a club atmosphere, with a glass top over the pool water and glowing lights. We lounged on a couch clinking glasses with a breeze in the air, the dark starry sky above us, building tops of Madrid around us. So pleasant we stayed until last call.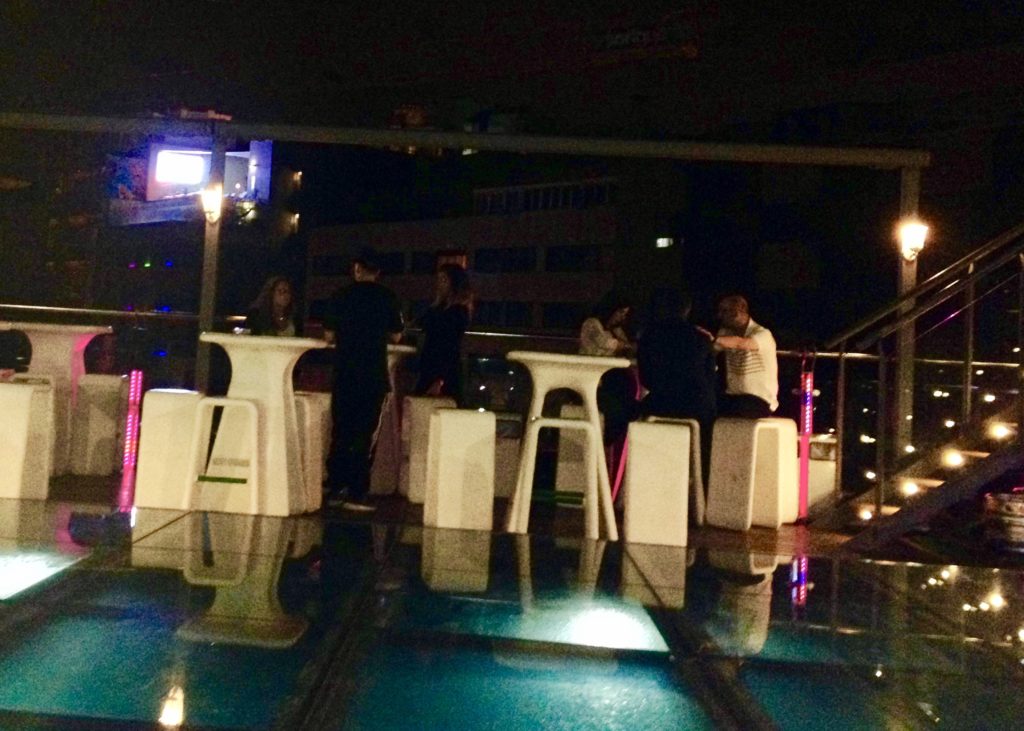 For more restaurant, bar and rooftop recommendations, check out some of our other posts about Madrid, like this one and this one.
And a word about the word Rueda. Whenever we ordered Rueda wine, we got puzzled looks from servers and bartenders. Of course our Spanish pronunciation is not perfect, but surely it was close enough to recognize when taking a drink order? Rueda, y'all! As much as we would try to copy the accent, no one immediately understood what we were requesting. It happened in San Sebastian too. We would clarify "Rueda vino…the region in Spain?" and that would usually work. It became two parts funny one part embarrassing for us, but we'll keep trying.