by Wendy
Here are a few basics for when you visit San Sebastian – you know you're thinking about it.
Know that San Sebastian is part of the Basque autonomous community in Spain. People speak Spanish and Euskara (Basque) and signs will likely post both. San Sebastian is Donostia in Euskara. Other than this word, you likely won't recognize many others, though it is fascinating to try. At Saturday night Mass, the service alternated between the two languages. If that wasn't impressive enough, most people seem to know English as well.
Obviously you will be spending some serious time on the beach. Plan ahead by packing a few helpful essentials. Bring a foldable cloth tote for stuff like your books and magazines, sunscreen, lip balm, hat, sunglasses, credit card, room key, travel towel. The quick dry travel towel rolls up tiny in a suitcase but is great for drying off or spreading on the sand for lounging, even if it didn't dry quite as quickly as we hoped. You don't see many people wearing swimwear except on the beach, so I made sure to pack a couple of cover up dresses that would be appropriate for walking back to the hotel or stopping in a bar or restaurant.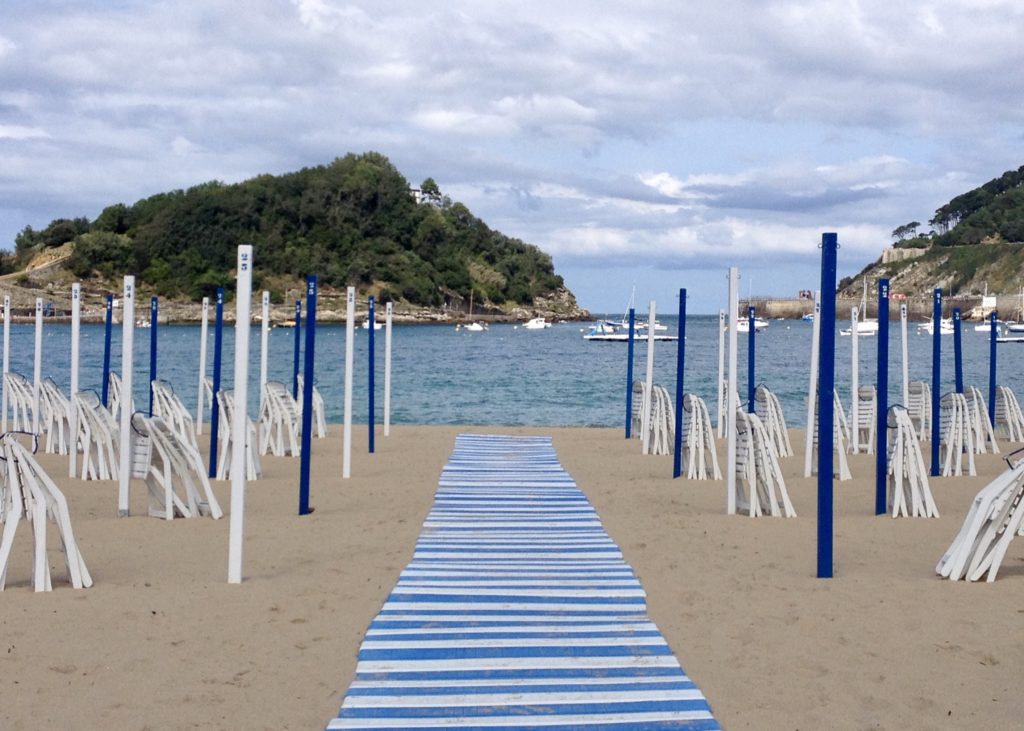 Bring some euros to the beach in case you want to rent a chair or umbrella, or grab a drink. There was no one selling chairs when we arrived on a cloudy day, so we helped ourselves to two. No problem, the proprietor stopped by later and we paid him 2 euros.
The closer you get to Old Town and the few big oceanfront hotels, the more crowded things seem to be. The perks are more restaurants on the boardwalk and once we heard an announcement over loudspeakers that children were invited to afternoon story hour. Ondaretta Beach, about 5 minutes from NH Aranzazu is a lovely spot, though it can also be popular on a sunny day.
There are changing rooms/toilets on the beach and the ones we accessed on Ondaretta were surprisingly ship-shape. Often a "pay to pee" strategy keeps facilities clean, but when I inquired, "gratis?" the attendants laughed and said of course, no charge.
There are places to rent kayaks and paddle boards, if that's your thing. There are several floats with a diving board and slide – I hope to one day be a confident enough swimmer to cover the distance. Incidentally, I was reading "The Sun Also Rises" on this trip and Hemingway's main character describes swimming in the refreshing San Sebastian sea.
Even if you get perfect sunshining beach days, make time to go to La Perla.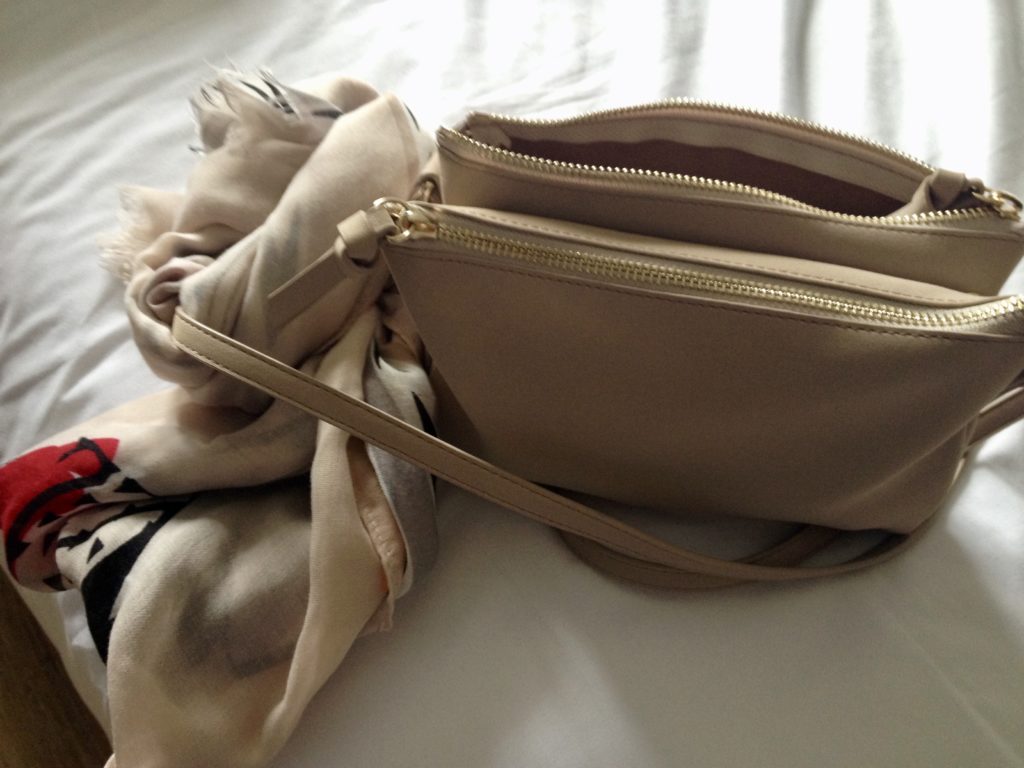 Take the right shoes – you'll want to spend time on the boardwalk and wandering the Old Town streets. Take the right purse – the crossbody bag I brought to Paris last June was also perfect in San Sebastian, as it forces me to carry less stuff and looks fine with any outfit. It was about $12 from Old Navy! Take an umbrella, because this region of Spain gets a fair bit of rain. And a big scarf tied around the bag is very handy in drizzle or when the evening turns cool.
Make reservations if your heart (or stomach) is set on visiting a particular restaurant, whether Michelin starred or not. Peak dinner hours seemed to be between 8:30-10:30pm. At some point, be sure you try a few pintxos arranged so temptingly on bar counters – San Sebastian is famous for these.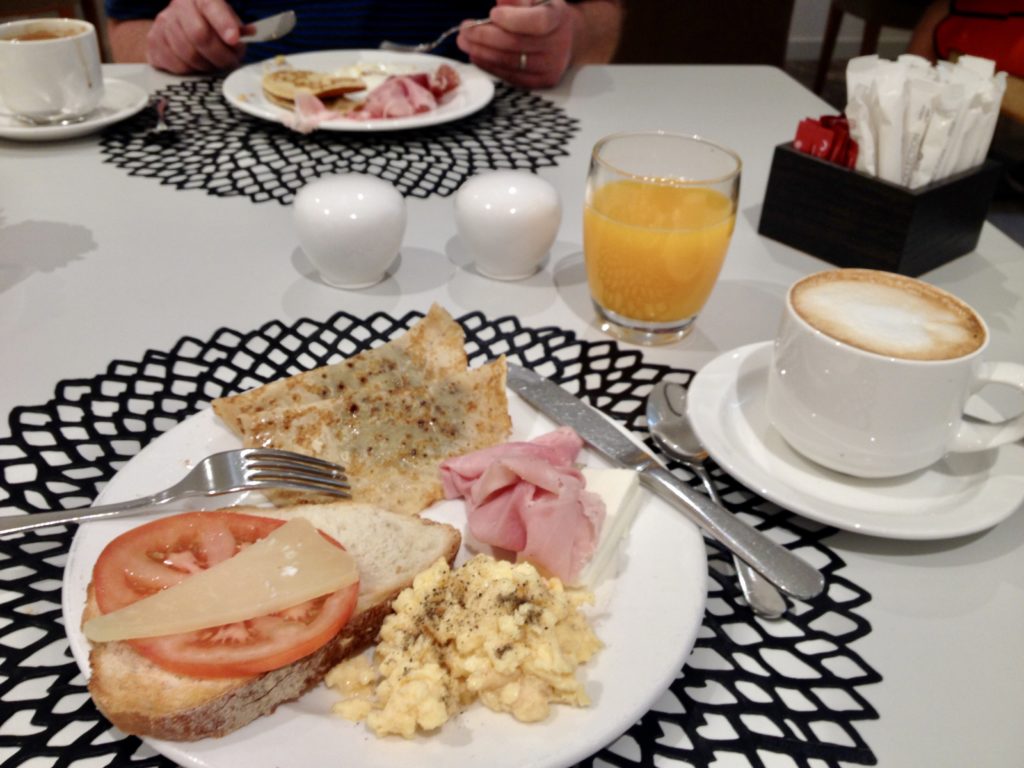 Consider adding daily breakfast when you book your hotel room, if offered. It can be a bit pricier than grabbing something on the go, but the varied, delicious selection helped motivate us to rise at a decent hour.
For a quick and inexpensive snack, pop into a local grocery. We bought a bottle of water, bottle of wine, jamon slices and cheese for about 8 euros, and leftovers could be stored in the mini fridge.
Admire the aesthetics in this gorgeous city – from the design of the railing along the boardwalk, to the abundant plants blossoming in house windows, to the way food is arranged on a plate. Even with something like a simple chicken sandwich, ordered at a sidewalk table at casual Bar KOK, the presentation has style.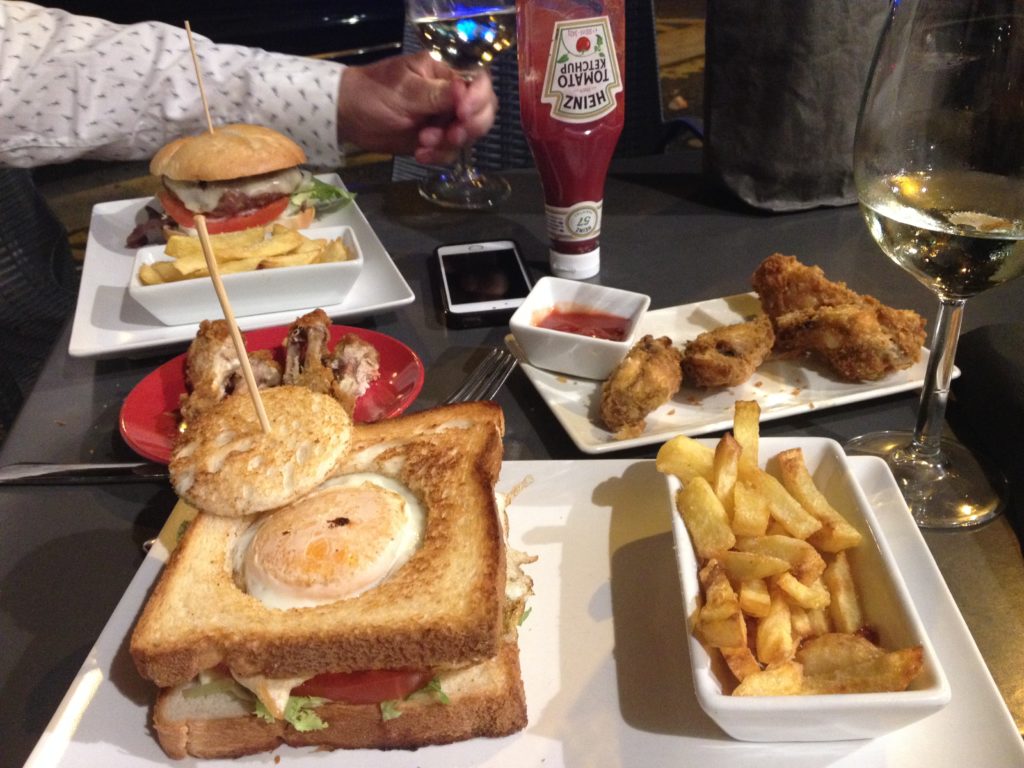 We definitely have a special affection for San Sebastian. When you go, please tell us if you agree – and share your tips!