by Joe
My lovely wife and I just returned from a road trip through western Canada and northern Montana which was a most scenic adventure as you might expect. We love the West but had never explored this state or been to Canada. We enjoyed the Alpine look and feel of the Banff area and the great northern Rockies. Since we went in September the mountain peaks were getting snow already and we had a couple of days when we saw a little snow at the lower elevations. The weather overall was quite good temperature-wise (although my shorts were the only piece of clothing I didn't bring out of the suitcase). We saw the sun at least part of most everyday so it was all good! The glacier and mountain lakes were the most spectacular we've ever seen. The color was a blue we hadn't seen before and they were cold and clean.
Great hiking and beautiful scenery everywhere, but where to eat? This was not a problem and in fact was, as usual, a wonderful part of the journey. Both locations are big on big game meat such as buffalo, elk, and AAA Alberta beef. But salmon and fish were very prevelant as well as poutine. This is the West and cowboy country. Here are some of our favorites and the locations: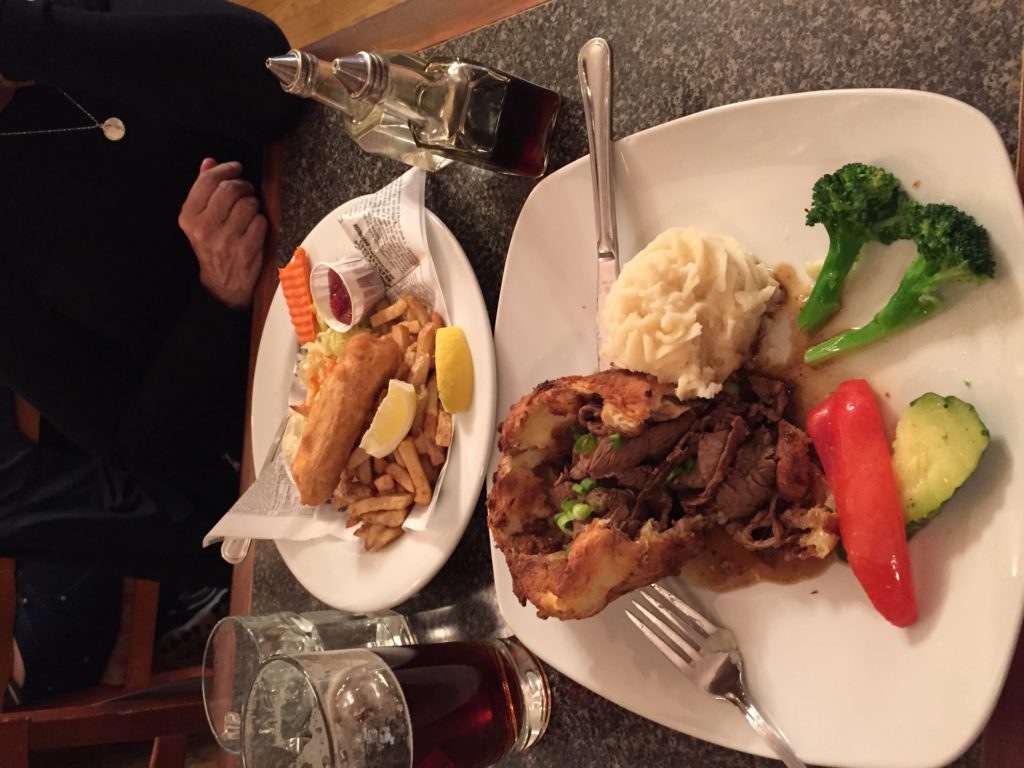 The Georgetown Pub – this Irish Pub is in the Georgetown Inn in Canmore and is a nice pub with a large restaurant. We had no problem getting a table without a reservation even though they appeared to be very busy. My wife had the fish and chips and I had the Yorkshire pudding with a traditional ale that was brewed locally. The Yorkshire pudding made with AAA Alberta beef and a very rich gravy was very filling and satisfying. Fish and chips were done in a traditional way which Cindy enjoyed. Price was very reasonable.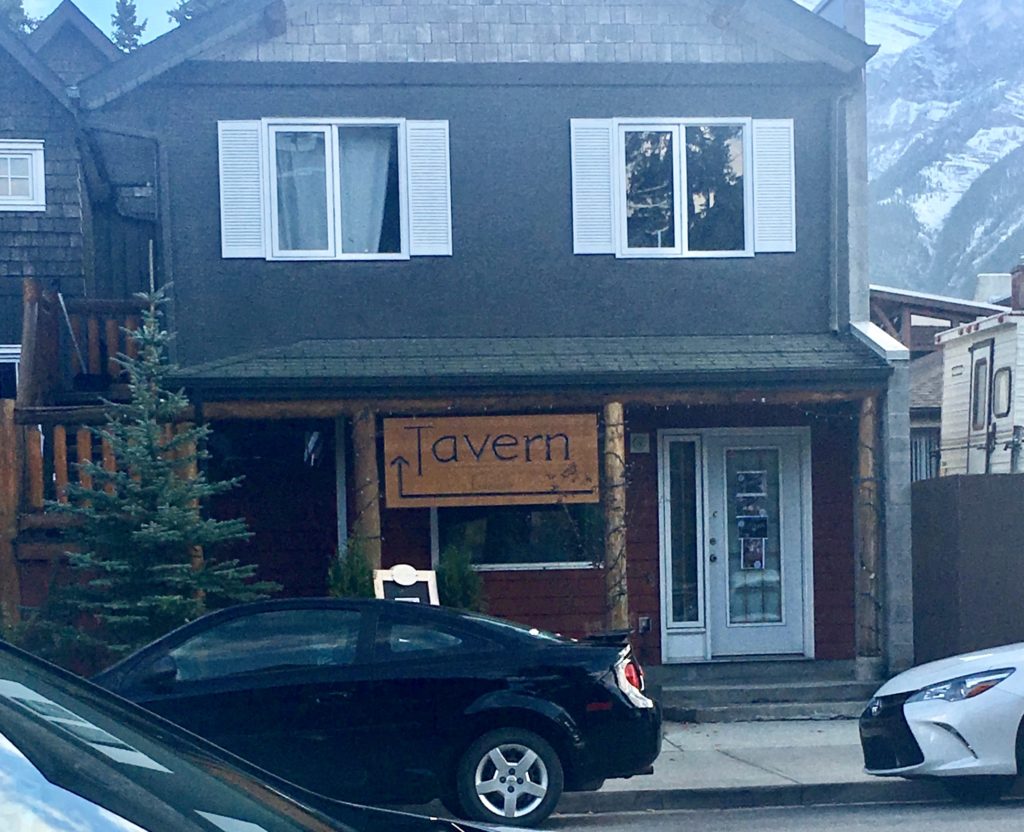 The Tavern – this local establishment in downtown Canmore has been a restaurant since the early 1900s. May not wow you at first glance but the food and drinks are first rate. Cindy loved her fresh made margarita while we waited at the bar and I had a couple of local brews. There are so many good micro breweries around these days and I love to sample the locals. We split a poutine that was one of the best I've ever had. The gravy made the dish. My wife had a black bean burger and a Caesar salad. I had the burger and a homemade tomato soup. Very fresh and tasty. Many unusual "snacks" to try if you're so inclined.
The Iron Goat Pub and Grill- in Canmore was a delight. We showed up without a reservation but they found us a table on the second floor which had some great views out the floor-to-ceiling windows. You could see the Three Sisters Mountains in the front of the restaurant. Cindy enjoyed a baked chicken with roasted veggies and red potatoes. I had a buffalo, elk, and beef meatloaf with potatoes, small corn on the cob, and roasted peppers. What a great combination of meat flavors to remind me I wasn't in the South. This dish was delicious and definitely not my momma's recipe.
The Front Porch Grill House – was in Eureka, MT just across the Canadian border. Stopped here for a little snack but bought the largest meal of the day at noon. This diner was by far our largest surprise and a fun place to eat. Everything on this menu looked great and so was the diner atmosphere. We tried two of their local favorites. I had the Famous Eureka Bubba Burger. It was a perfect blend of flavors. Burger, Cajun sausage, shrimp, cheddar cheese, and chipotle, with all the cool trimmings (lettuce, tomato, pickle). Cindy had the Montana Huckleberry Burger. When you look at the ingredients it doesn't sound right but it is right! Burger topped with jalapeños, cheddar cheese, bacon, huckleberry ice cream and huckleberry jam. As the ice cream begins to slowly melt it cools the heat from the peppers perfectly. Fries were perfectly done and plenty. The burgers are going to be served at the lighting of the National Christmas tree this year. What a treat and a splendid surprise. We tried to stop here on our way back home for breakfast but unfortunately they were closed. I later discovered that Chef Monroe is quite accomplished and famous in New York and Paris, France. The joys of travel!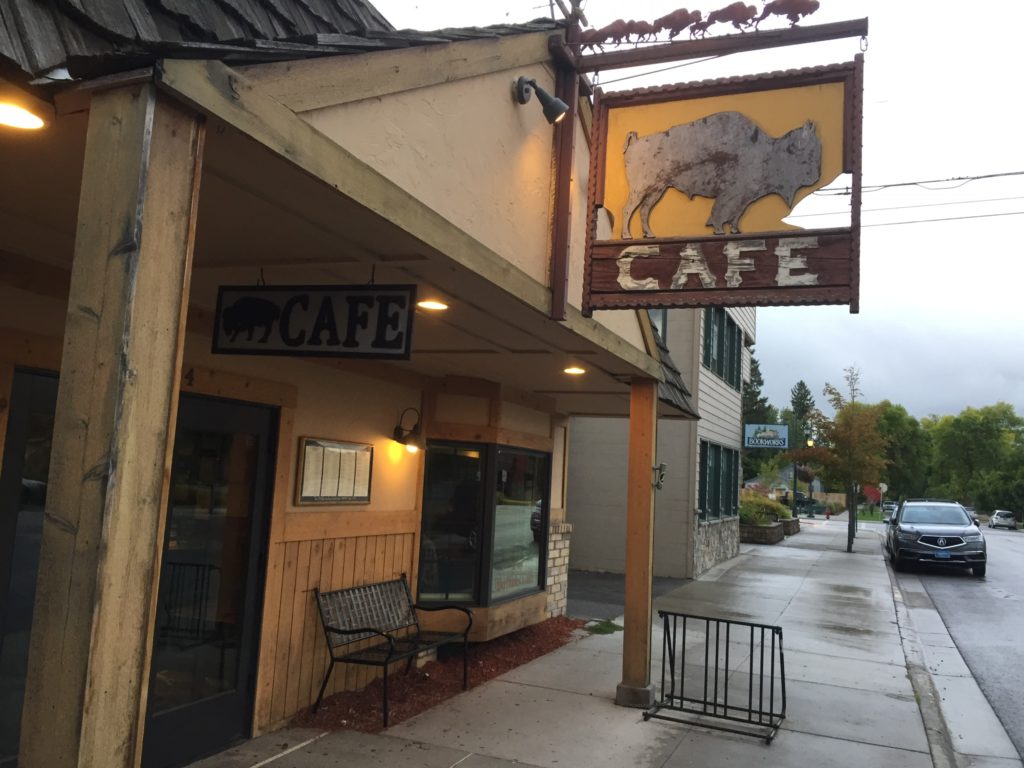 The Buffalo Cafe – in downtown Whitefish was where my wife said she might have had her best meal. This casual cowboy cafe serves up well prepared meals, and great local beers at a reasonable price. She had a parmesan encrusted chicken with a lemon pepper aioli that was just too good! It came with whipped potatoes and roasted carrots. I know it was tasty because she let me try it. I had the pan seared wild Alaskan salmon with a ginger-maple glaze served with veggies and whipped potatoes. Local beers were my choice again. Cowboy Chefs have learned a thing or two since the days of the chuck wagon and beans and beef.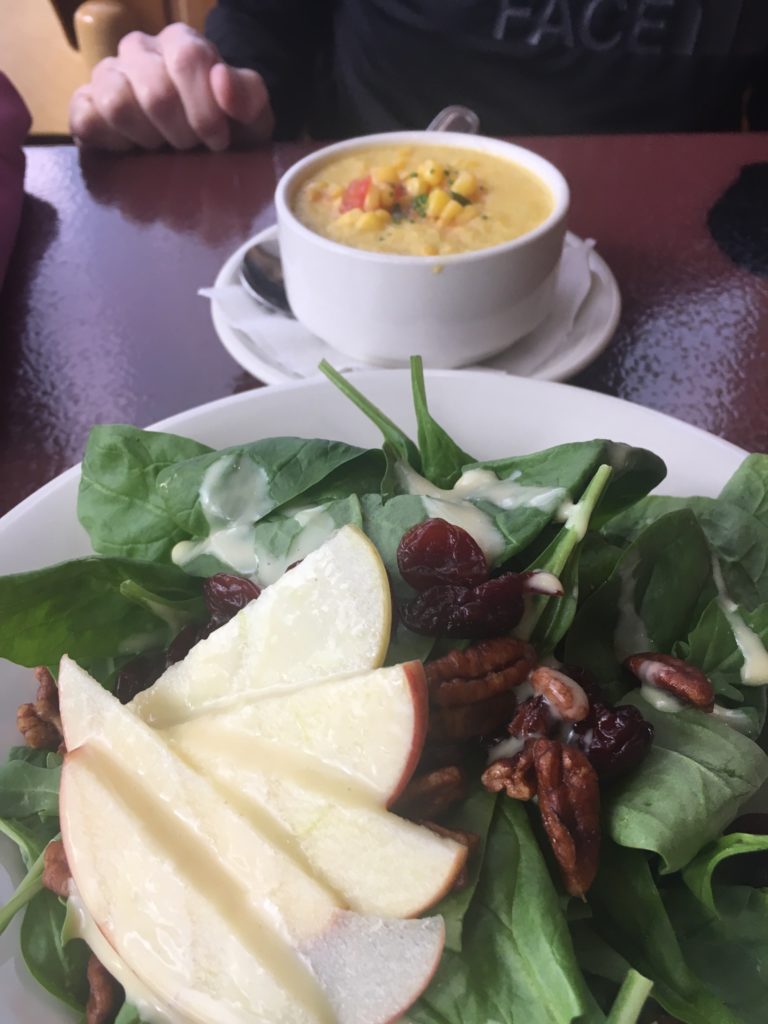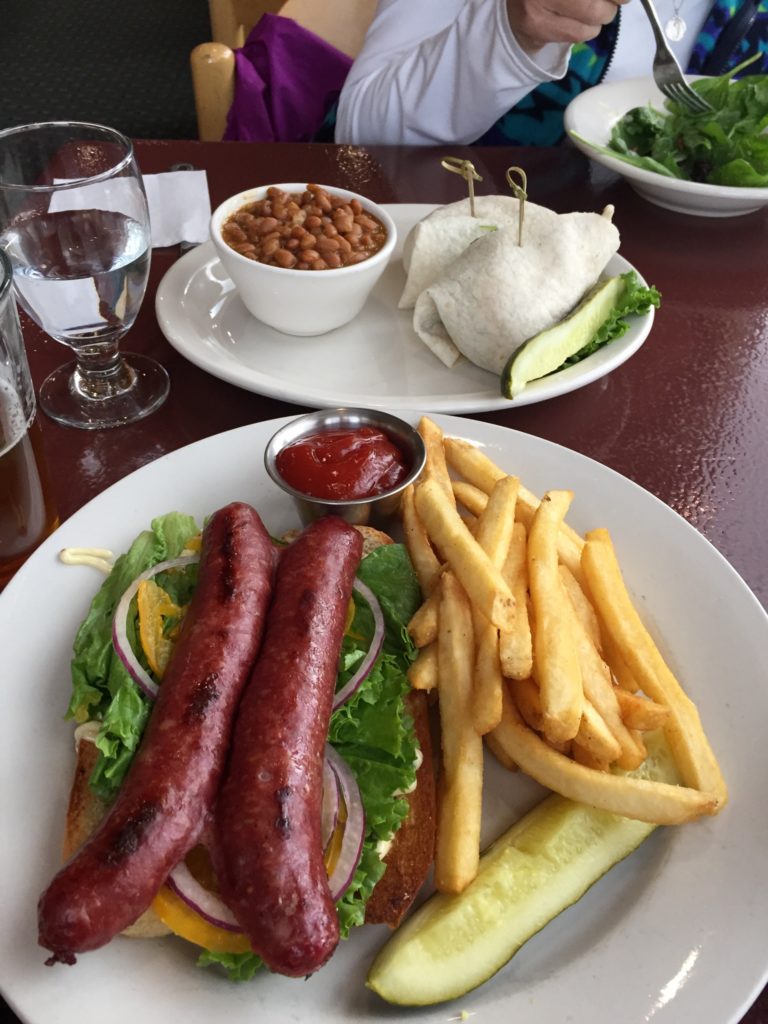 Snowgoose Grille – is in St. Mary by the East entrance to Glacier. It's actually located in the St. Mary Lodge and we just squeezed in at the end of their lunch session. This afternoon meal once again proved to be more than a snack and our biggest meal of the day, for good reason. I tried a local beer to start with and we ordered a starter. Cindy had the spinach apple arugula salad with candied pecans and dried cherries. I ordered the corn bisque which was more of a chowder with lots of creamy corn roasted red pepper and corn melange. For our lunch Cindy had the chicken salad wrap with dried cherries, spinach, and green goddess dressing and I had probably the best sandwich of the trip (after the bubba burger). I ate the elk bratwurst on a wheat Montana hoagie bun with stone ground mustard, lettuce, and tomato. Looked like a sausage but was mild as a brat. We were stuffed.
Craggy Range – is in downtown Whitefish. Might have had the best appetizer we tried. The Fry Bread with apricot red onion jam, whipped cream cheese and mint was one of our favorites. The fry bread was a little different than we had expected having had it in a couple of Native American locations over the years. The fullness of the bread reminded us more of a doughnut than the traditional flat version. However, it could easily have been served as a dessert.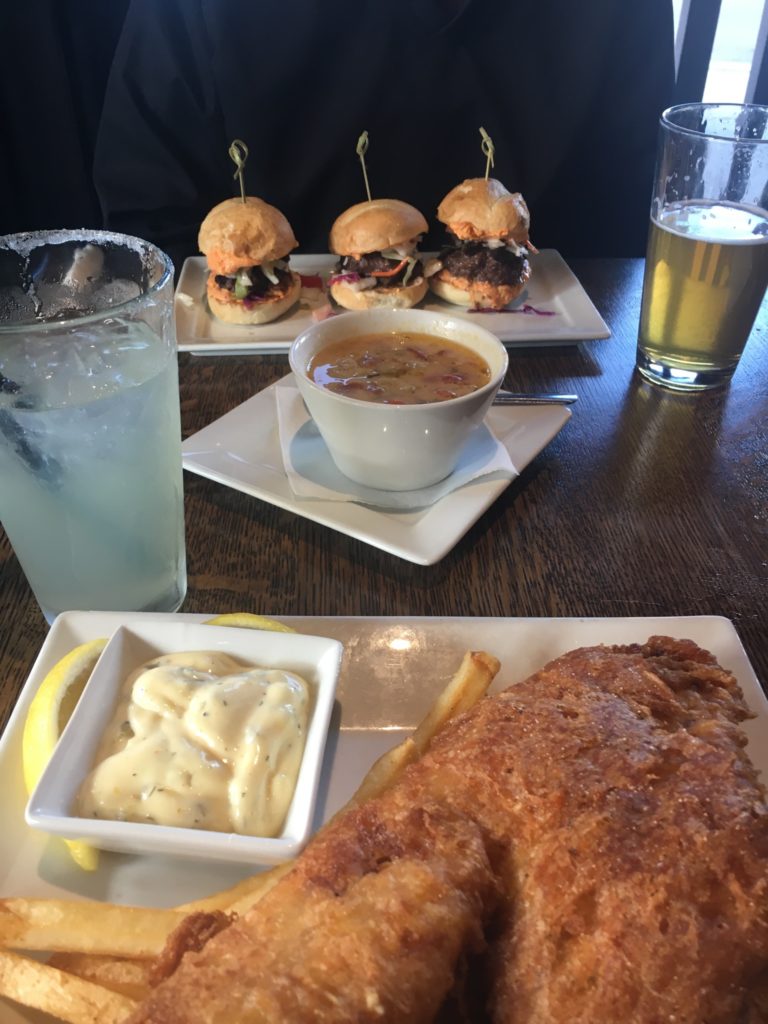 Casey's – in downtown Whitefish is basically a good solid slightly upscale burger and sandwich pub. I had the buffalo sliders and a local brew which were both quite good. I had a cup of the cheeseburger soup and it too came across as a great blend of the traditional cheese and burger. My wife had a margarita that was so sour she had to add a pinch of sugar, and a fish and chips dish. All in all a basic, not great but good delivery of food.
All of the above places were easy to find and it reiterates what I believe: that no matter where you go, how remote an area you might be traveling, you can always sniff out great food and places to remember. Take time to do a little researching into the local places and the local specialties. You will be glad you did when it comes time to ring the dinner bell.