by Wendy
I have a few more tips to share since my last post on the fabulous city of Philadelphia. Jack and I spent a couple of days here after the Thanksgiving holiday and our fondness for Philadelphia continues to grow.
Museum of the American Revolution – Of course we had to check out this addition to Philadelphia's extensive museum collection. The Museum of the American Revolution opened earlier this year and is located mere blocks from Independence Hall. We enjoyed several hours here. Interesting exhibits. Had that new museum smell. Cool gift shop. Docents were very eager to chat. Do not miss George Washington's tent.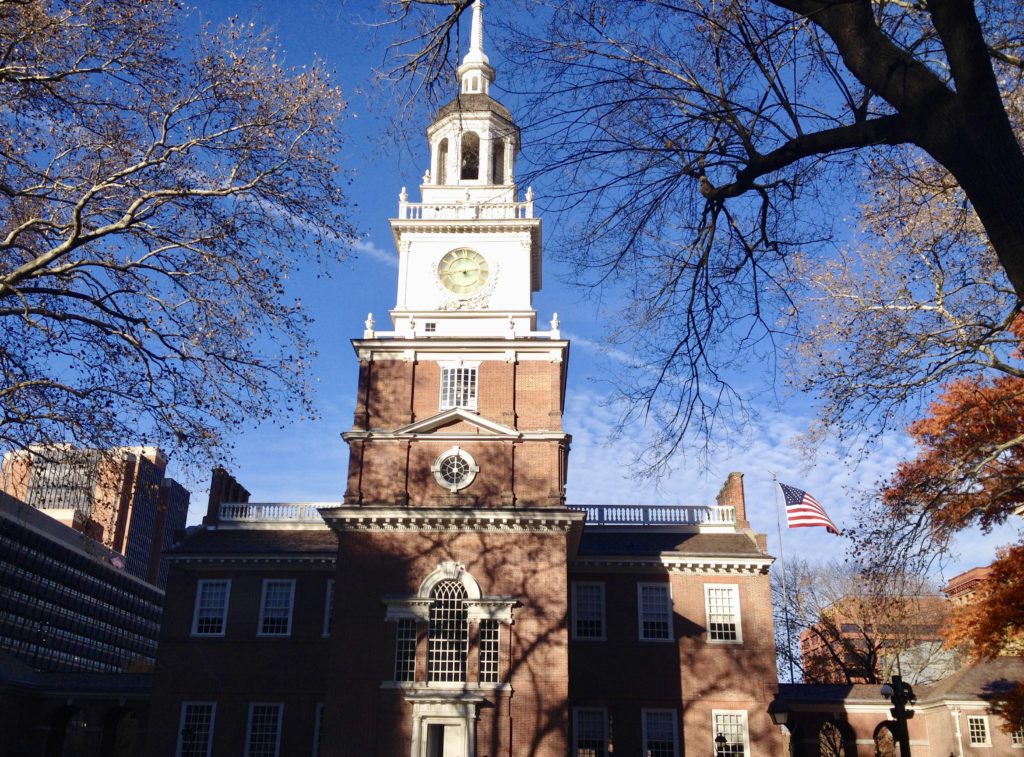 Jones Restaurant – It was Sunday morning and we were walking to the aforementioned Museum of the American Revolution, looking for somewhere to grab a bite. Really glad we found Jones Restaurant. Kind of reminiscent of a lodge, this restaurant was clearly popular with both families and friends meeting to catch up over brunch. Children were as psyched about a breakfast chocolate cake and milk as adults were about a breakfast burrito and mimosa. Jones Restaurant serves great coffee, hot and cold brew. Jack and I each ordered a bagel and lox plate that was spot on and garnished with cream cheese and fresh cucumber, tomato, olives and onion.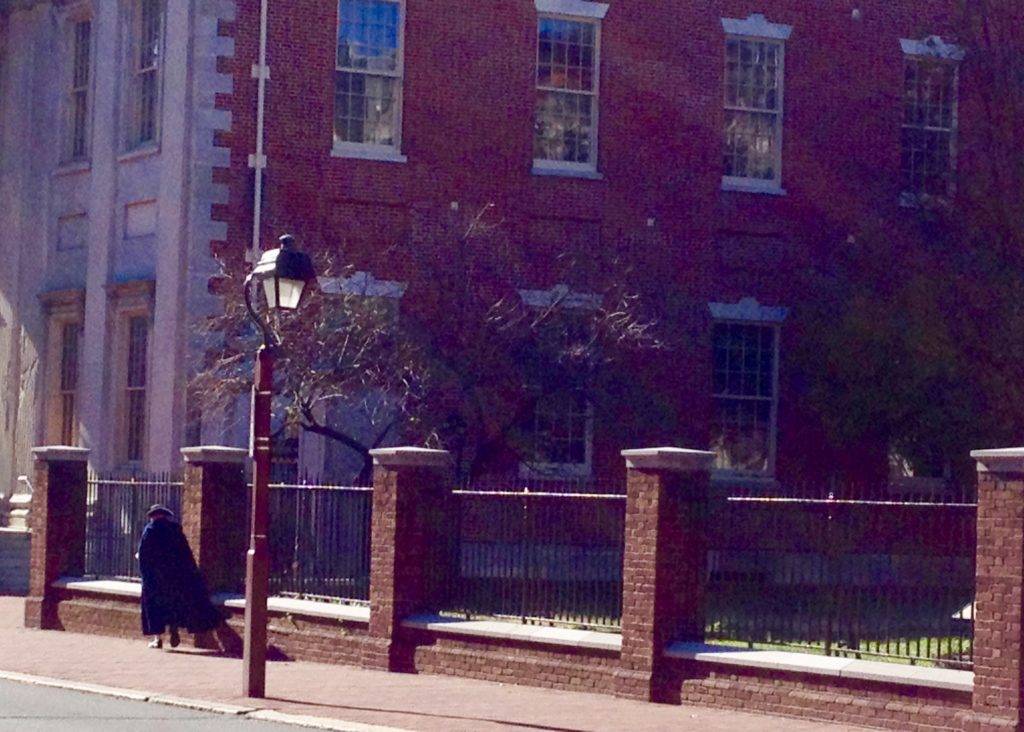 Street Art and Architecture – Jack and I love walking around downtown and historic Philadelphia. From brick colonial townhouses to art deco buildings to modern art gracing old streets, Philadelphia has a unique energy. You'll likely interact with gruff residents, friendly residents, fellow tourists, hustlers and homeless, college students, hipsters and probably someone dressed in a cloak and tricorn hat.
Our hotel was centrally located on Broad Street (shout out to the splendid Hyatt at the Bellevue). As usual, we spent time wandering on South Street and the area nearby. Philadelphia's Magic Gardens beckoned, with its colorful mosaic murals by artist Isaiah Zagar. We would have bought tickets, but they were booked solid for several hours. Luckily you can still admire the sparkling tiled walls from outside the gallery.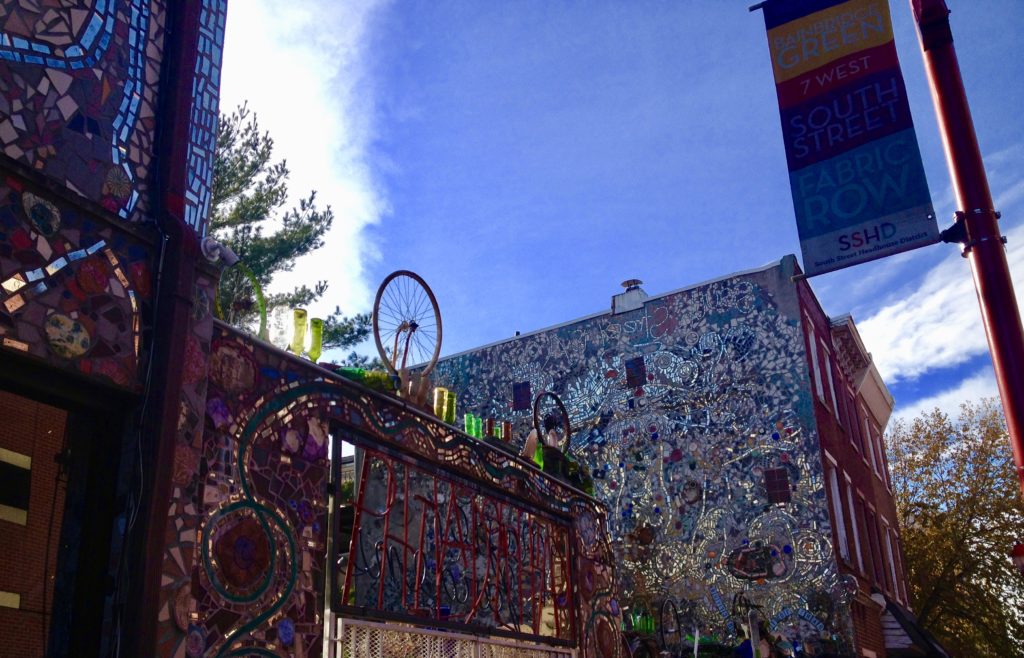 The giant lion mural and wheel on the side of a building also caught our eye. The "Atlas of Tomorrow" by artist Candy Chang is brilliant. Think of an issue in your life where you need direction, spin the giant wheel, locate the number on the wall, read the corresponding story, and contemplate its meaning.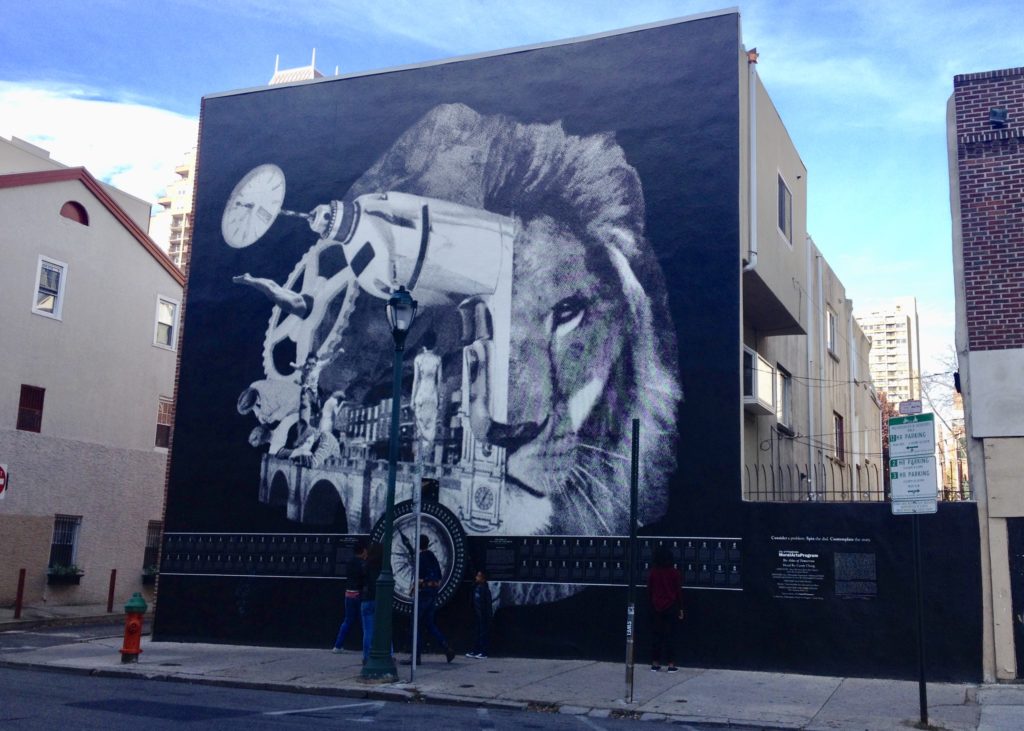 Vetri Cucina – Special place but frankly, it's pricey. When we made reservations, Jack and I initially thought the price for ONE person was the price for two. Yikes. But we decided the multi-course dinner would be our Christmas present to each other, and we have no complaints. The beautiful cozy dining room in an old rowhouse and the gracious service complimented the delicious and exquisitely prepared Italian dishes. Think delicate sweet onion crepe, flavorful and tender proscuitto cotto, swiss chard gnocchi and tajarin pasta with king crab and caviar so good it leaves you speechless…just to name a few items. We both agreed it was by far some of the best food we have ever tasted, and it was fun to be surprised with each new course.
Afterwards we walked to the nearby bar Writer's Block Rehab for a bourbon, mainly because we loved the name. It was slow on a Sunday night but the bartenders were jovial.
Jim's South Street – Philadelphia is such a great city for food. The morning we left to drive back to DC, we stopped at Jim's South Street (it's a long street) to pick up two cheesesteaks for dinner later. One with cheese whiz, one with onions and provolone. Both were awesome but we decided cheese whiz is the perfect topping for shaved beef on soft Italian hoagie bread. Last night around 10pm I joked to Jack that we should drive to Jim's for sandwiches before they closed at 3am. That's the kind of talk they inspire.